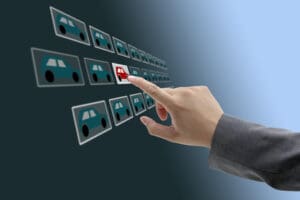 As a car dealership, you have goals you want to reach. Maybe you gauge your success by annual sales or by your salespeople reaching their monthly quotas. However you choose to manage (and measure) your profitability, there's always room to grow. Whether you are looking for ways to increase productivity, modernize your dealership or convert more prospects into customers, all of these issues can be handled by the cloud. Here are three ways you can use it to your advantage.
Customer Relationship Management
Years ago, car sales revolved around building relationships. If you got in good with Mr. Smith, you could somewhat bank on selling cars to the entire Smith family for years to come. Nowadays, things don't work the same way. Mr. Smith has numerous options for car brands, dealerships, features and prices. He can use the Internet to find a car and circumvent the dealership process entirely if he chooses. So, how can you better reach prospects? Invest in CRM.
Customer relationship management systems unite, organize and automate your information relating to customers. A solution like Salesforce even includes specialized versions of its cloud-based platform, including one built around the needs of the automotive industry. By staying on top of the contact, you'll have a better idea of when to reach out again and one easy place to store all the notes on each prospect.
Furthermore, since these systems are Web-based, you can access this information from any computer while at work or at home. And, as the name implies, CRM is all about managing relationships so you can see happier customers and higher sales.
Cloud Storage
Another great option for your dealership to consider is secure cloud storage. That filing cabinet you have can be useful, but if you experience a physical loss through theft, fire or something else, you'd have a serious setback on your hands. However, if you switch to the cloud, your sensitive information can be properly safeguarded and available as long as you need them.
If Web-based storage is a little outside your typical area of expertise, use a website like Top 10 Cloud Storage to easily compare the pros and cons about the various options. And, once you have all your information securely stored, it's easy to access it from anywhere—your office, a coffee shop where you're meeting a prospect or the showroom floor. You won't be limited by physical files, and you can enjoy the peace of mind of knowing your most important documents will always be safe.
Dealership Specifics
No one knows your business like you do. Try as they might, sometimes you just need solutions built specifically for dealerships. Luckily for you, there is plentiful cloud-based dealership software available. MotorLot, for instance, offers a custom website with the promise of more customer conversions. Lot Wizard, alternatively, gives you automatic VIN decoding and a step-by-step deal processing screen. If you delve into the features of each solution, you can figure out what facets (and pricing models) work best for your company.
When it comes to your dealership, you want every advantage you can get to reach your goals and increase your sales. Just remember, the cloud can help.
Author: