I recently made the decision that I needed to further my education, as well as try to find something that I could bring to you that would narrow the gap between dealers to wholesale to independents profitability. When we look at the number of vehicles wholesaled to wholesaler's right at the door, and the amount of money that's made on those vehicles (before they wind up on an independent lot and sold), that amount is huge. I decided the best way to do this is to go to the open auction and actually watch the lanes with an idea.
Todays' auctions are a lot different than those of you that have not been for a few years, would imagine them to be. You have so many options and tools available to you by running your cars direct rather than wholesaling them. It amazed me. You can actually simulcast your car and represent it on the block. There are so many various ways to sell your self. I decided to watch the cars that ran and the number of buyers in the lane based on who was selling them. By far, when new car dealers vehicles were coming through the block for sale, the highest number of buyers moved to those vehicles. They want new car dealer trades. They know that regardless of condition, they are still the best pre-owned opportunities in the market.
You must remember that the majority of the people buying at an open sale are independents. They are looking for vehicles to replace their current inventory. They would much rather purchase them knowing they are new car dealer trade-ins than to purchase them from a second party wholesaler.
Manheim Auto Auction in Jacksonville, Florida was gracious enough to allow me to spend time with them. Ms. Toni Williams, the General Manager of that auction explained in detail all the new procedures available. There are videos on the electronic version of this article including an interview with Ms. Williams that I think you will find very interesting.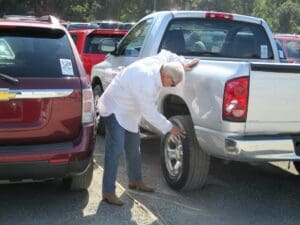 One thing about the auction that impressed me is when your car arrives, you can get a written evaluation report of what they see that will actually go on the screen to the buyer and that helps cut down on arbitration. Any reconditioning that you have done is a definite piece of information to disclose.
When your car is on the block, the auctioneer can only do the job for you with what information he is armed with upfront to tell the buyers. If you are there or simulcasting your cars, the "story" that you can tell will enhance what your cars are going to bring.
Get out there. It's a great day you won't forget. The main thing I want you to see is what the cars that you wholesale to someone else bring when they are going to the last spot before retail. Take the time, narrowing that gap goes to your bottom line.
If you are a new car dealer reading this, I would appreciate your taking the time to go to your local auction with your used car manager, whether it's a pig sale or a big sale, and just look at what transpires at the place that sets the true price of a used car when the hammer drops. You can see what they look like, how they are represented and what an independent wants to take home.
Author: