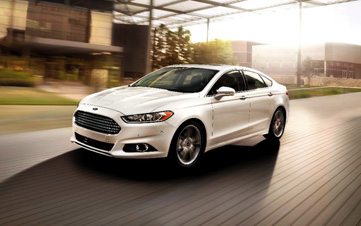 From Huffington Post: Which automotive brands are getting it right?
Santa Barbara's Hotel El Encanto's has a small bar overlooking the Pacific Ocean. It's calm and quaint, the kind of place that lets you rest your mind as well as your body.
A few weeks ago after enjoying some drinks at the bar, a friend asked me, "Which car companies are just totally getting it right these days?"
At the time, I had trouble narrowing it down. But after returning from the action-packed press days of the New York Auto Show, I have my answer.
Ford, Hyundai, Kia and Mazda are totally getting it right. If you're shopping for a new car, these four brands should be on your short list.
Obviously, there are plenty of individual cars that are very good. Buick's Regal is compelling, the new Chrysler 200 is an excellent sedan, the Honda Accord and Fit are superb cars and we really like the VW Passat TDI.
But what is it about Ford, Hyundai, Kia and Mazda that set them apart as brands? It's different for each, but it boils down to two elements: a solid product lineup across the board and easy-to-use tech.
Click here to read the entire article >>
Author: