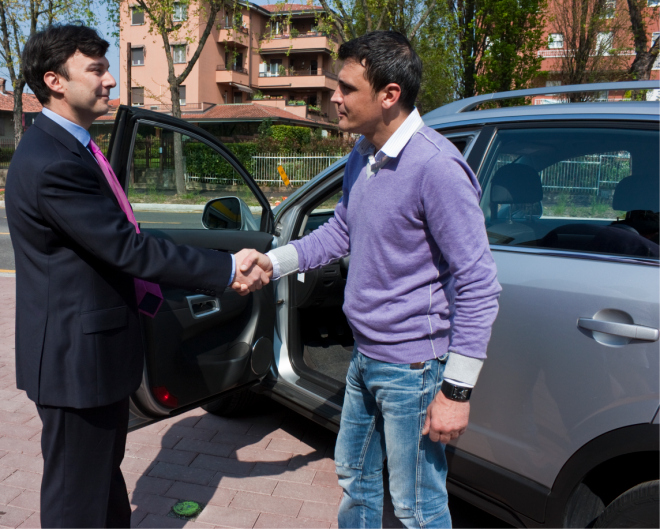 Having been in the car business for over thirty years, I have often been amazed at how some things just don't make sense. For instance, most Americans from adolescence on have a special place in their hearts for automobiles. Having a car has always been a central part of our way of life and in some ways can represent our unique identity as a person. It may mean freedom or style to some or the idea of being cool, classy or sporty to another. Getting your first car is almost a rite of passage that says you are grown up and ready to take your place in the world.
Yet in spite of all the joy and emotion that is such an important part of owning a car, when it comes to the act of buying one from a Dealership, it doesn't take long for enthusiasm to become dreaded. In fact, most people would rather go to the dentist for a root canal than to a car Dealership to buy a car.
And that's what doesn't make sense: how it is that something that should be fun and exciting can become a totally uncomfortable experience to most people? What is it that makes a Customer so defensive and uncomfortable when they come to a car Dealership and talk to a Salesperson? In most cases, it is the perception that they have of the sales process. They believe that a Salesperson will do whatever it takes to sell them a car today so they resist the process and try to defend themselves from being taken advantage of.
If the Salesperson is not prepared for this or is unprofessional in their methods, they can reinforce those fears and drive them deeper into a shell making them even harder to deal with. Their focus should essentially be to make the Customer comfortable and relaxed as opposed to following a process that does just the opposite.
It usually starts with not listening to the Customer and immediately trying to take control of the sale. Many view them as an opponent that needs to be outsmarted or out talked and they work to wear them down in any way they can. Instead of trying to find out what the Customer wants to buy and then helping them accomplish their objective, they try to sell them what they think would be best. This is done through a relentless process of trial closes and pressure words and statements; all designed to get the Customer to make a decision before they have even earned the right to ask for the sale.
If a Salesperson does not take the time to assure the Customer and release their defenses, they are usually following an old school process that is based on confrontation. From beginning to end, this process is designed to give the Salesperson the upper hand and intimidate the Customer into making a decision before they are ready.
A professional Salesperson on the other hand, recognizes that a Customers' defensive mechanisms are often the greatest source of information on how best to help them. They work hard to understand their Customers wants and needs and to gain their trust by genuinely helping them to achieve their goal. They don't see this as an opportunity for a sale only, but rather a chance to earn a Customer for life. Their goals are career goals and not just 'make a sale today' objectives. Their Customers represent future business opportunities filled with continued purchases and referrals from family, friends and business associates.
If you are aware of my techniques and philosophy of selling at all, and have read my book, 'Secrets of Inspirational Selling' you already know how I feel about the old method of manipulation and control. The core of my process is based on Customer satisfaction which is gained through respect and concern for the Customers best interest. My many years in this business as a Salesperson, Manager and Trainer have taught me that the secret to success is satisfying your Customers. When you are able to please your customers, and do it well, the growth and quality of your business will take care of itself.
It is not logical that Customers would want to have a negative experience when buying something that is such an important part of their daily life. When the Salesperson can catch them pleasantly off guard by being unique, inspiring and professional they can reverse their fears and anxieties. In doing so, they can make their shopping experience something they enjoy and truly benefit from.
By successfully overcoming the Customers obstacles through a logical and empathetic process, you gain their trust and confidence and pave the way for a positive buying experience. There is no need for trial closes or threatening questions that create stress and anxiety for the Customer. By developing a personalized, but structured sales process, each step of the way brings the Customer closer to achieving their buying objective. Your goal is to sell them on your product, yourself and your Dealership. By doing this successfully, you take away any reasons or need to look elsewhere to make their purchase.
What really makes the Customer Defensive starts by our not recognizing the value they bring to our chosen career. Without Customers, we are out of business. No matter how good our product is, if Customers don't want to deal with us, they can easily find that product elsewhere. Those who truly recognize this will adapt a better process that puts the Customer first and in doing so, puts their own success first in the process.
Author: