Your service department exists for the primary purpose of making money. The way you accomplish this is:
By selling preventive maintenance so vehicles won't break down
By fixing vehicles that break down due to lack of preventive maintenance
That's it. Either your service staff is repairing a car or maintaining a car.
The primary purpose of your service advisors is to sell service, to sell labor, and to keep the mechanic's "time bucket" full.
Service managers create pay plans to encourage techs and advisors to follow processes that accomplish the primary purpose. In other words, managers use money to influence the behavior of their employees.
Breaking news: Not everyone is motivated by money. Granted, money is necessary and many people can't get enough of it—but for others, if they have a reasonable income, a decent benefit package, and a couple of weeks vacation, then they are happy.
My friends, it has taken me a long time to get my head around this concept. I understand, of course, that there are more important things in life than money, but I've always had a compensation package that tied my performance to my income—and I like it that way! Let me say again: money is not the most important thing in my life, but money is a great motivator for me.
That said, I've been reading several articles that back up the concept that money doesn't motivate everyone. More importantly, though, I've also been observing this in service departments for several years. For example, I know of service advisors who are only order-takers. These guys are paid robust incentives when they sell needed services. They get cash bonuses for meeting sales goals. They are paid according to labor hours sold – the more hours, the more money.
There is no limit to the money they can make; yet, they don't communicate the tech's recommendations to the customer, they don't follow through, and they don't sell service.
So what's going on? Are they lazy, are they apathetic, are they stupid? No—I think they are unmotivated—or more specifically, they haven't been given the motivation that resonates with them.
Matt Winslow, Director of Speakers and Training for Automotive Training Institute, explains it this way: "Do you need to sell more needed work? Absolutely. But selling more work isn't a higher purpose your employees can rally around."
"Maybe they're paid hourly and they don't want to sell more work. Maybe the work they find is difficult and they don't want to do it. Or maybe your employees don't maintain their own vehicles and they assume your customers share their same values."
Winslow goes on to say that managers must define a higher purpose; they must promote a noble mission amongst their service employees. Instead of saying "sell more brake flush services so the shop can make more money," change the word track to include the noble mission: "Mom brings the family SUV to us for peace of mind, a brake fluid exchange gives her that security."
A transmission service isn't about adding an hour labor to the RO; the higher purpose is safety and reliability for daddy's little girl as she heads off to college. The same applies to windshield wipers, belts, and hoses.
Rear differential fluid needs to be changed every 30,000 miles. The noble mission is to protect a contractor from experiencing down-time due to catastrophic failure. A plumber depends on his pickup for his income; when the truck goes down, the money stops flowing in. (See graphic for more examples.)
Techs and advisors need to be taught that the importance of properly doing a multi-point inspection and communicating all of the maintenance needs to the customer. If they don't, they have failed the customer and abandoned their calling.
There is a sacred trust when a customer drops his car off for service. They believe that you are the expert and that you know how to keep their vehicle trouble-free and fun to drive. Don't violate that trust by failing to advise them of all the maintenance their car needs.
So what are you selling? You are selling safety, reliability, trouble-free operation and driving pleasure. You are selling reduced downtime, peace of mind, and lower cost of ownership (because maintenance is cheaper than repair).
You're selling independence to the widow, job security to the hourly worker, and reliable transportation to the little league team. You are selling fuel economy for those on a budget, fun and adventure for those on vacation, and increased resale value to those who want to trade for a new vehicle.
I bet all of these things are important to the families of your employees. They want all this for their families, don't they? Jesus said it best: "do unto others as you would have them do unto you." (Luke 6:31)
Now that's a noble mission!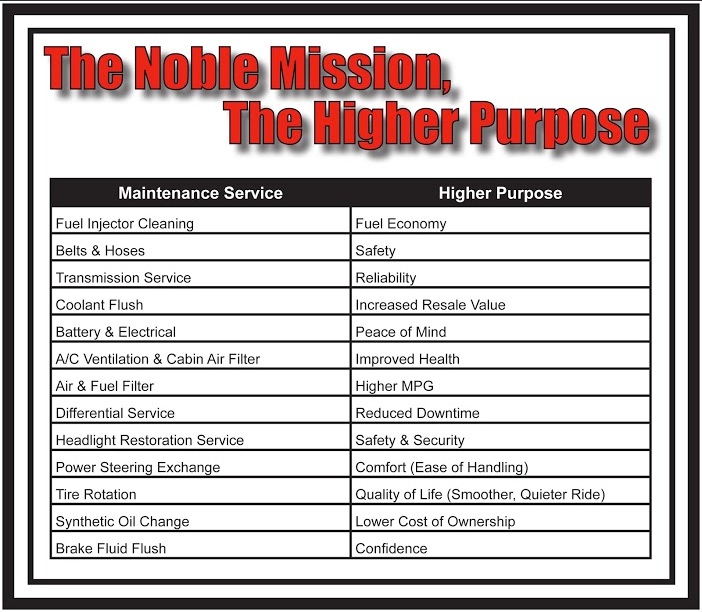 Author: