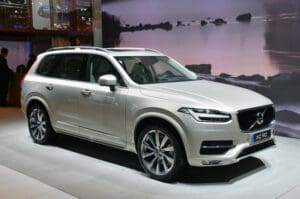 Volvo wants to sell cars online, skip most auto shows, from Auto Blog.
Volvo is completely rethinking its marketing strategy with an approach that it calls the Volvo Way to Market. The revised plan means an increase in the company's advertising budget overall and a totally different way to allocate those funds. The most dramatic shift is the Swedish automaker's decision to begin selling its models online directly to customers worldwide.
Volvo is leaving out specifics of its online sales strategy at the moment, but it promises that the approach doesn't push out its current dealers. According to Reuters, models sold through the web still go through the seller network for delivery. "We don't see a car distribution network without dealers in the foreseeable future," said company sales boss Alain Visser in an interview with Reuters.
The automaker already tested the online waters this year with the Special Edition XC90 that sold out in 47 hours and for the 120 US reservations of the S60 and V60 Polestar models. Tesla has been one of the major proponents of direct sales thanks in part to its unique model of having discrete stores. However, BMW and Ford have also made attempts at it in some regions.
Click here to read the entire article >>
---
Image Credit: Copyright 2014 Drew Phillips / AOL
Author: