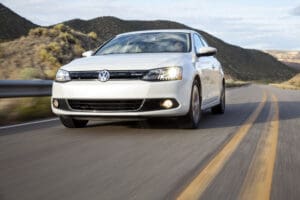 Company reports 34,311 units delivered
Herndon, VA –  Volkswagen of America, Inc. (VWoA) today reported 34,311 units sold in October, a 22.4 percent increase over prior year sales, a 35.6 percent year-to-date increase and the best October since 1972. In just 10 months of sales, this marks the best calendar year since 1973.
Best October since 1972 with 34,311 units sold and a 22.4 percent increase over the prior year and a 35.6 percent increase year-to-date
Best year-to-date since 1973
26 consecutive months of year-on-year growth
Best October ever for Passat and Tiguan with 8,355 and 2,752 units sold respectively
Jetta Sedan achieved sales of 11,253 units
High-mileage, clean diesel TDI models account for 24 percent of sales in October
"In the wake of the East coast disaster, we would like to express our thoughts and concern for all affected," said Jonathan Browning, President and CEO, Volkswagen Group of America, Inc. "In light of the difficult aftermath of hurricane Sandy, the Volkswagen of America Foundation is providing aid in the form of a donation to the American Red Cross in order to help with the relief efforts. Despite over 25 percent of our dealers being impacted by the severe storm conditions, Volkswagen was able to increase sales by over 20 percent and deliver the best October in nearly 40 years – a testament to the resilience and strength of our dealer body."
The Volkswagen of America Foundation announced yesterday that it would make an immediate donation of $500,000 to the American Red Cross for Hurricane Sandy relief to provide support for affected areas across the northeast. The donation will help cover costs of shelter, food, recovery and other assistance to families affected by the storm. Additionally, Volkswagen will provide matching funds to any employee donations made to the American Red Cross or the organization of their choosing.
The Volkswagen Passat, which was recently added to Consumer Reports recommended list, continues its successful year with 8,355 units sold in October.
Jetta sedan, including the enthusiast GLI model, remains the volume leader for Volkswagen with sales totaling 11,253 while Jetta SportWagen totaled 2,223. The Jetta turbo hybrid, which will go on sale later this year, recently achieved a Land Speed Record at Bonneville, posting 187 mph, a record speed for hybrid vehicles.
The Beetle continues to gain momentum with 2,439 units sold. The Beetle convertible will make its debut later this month at the Los Angeles Auto Show.
Golf/GTI/Golf R had total sales of 2,914 units. The Tiguan sold 2,752 units, the best October ever for the vehicle, while the Volkswagen Touareg sold 965 units, a 33.1 percent increase.
Volkswagen continued sales success with its TDI models, the Passat, Tiguan and Golf all had the best year-to-date sales ever with 75,779 TDIs sold, a 29.9 percent increase year-to-date.
VW US SNAPSHOT
–YTD–
Model Line
Oct. '12 Actual
Oct. '11 Actual
Yr/Yr % change
Oct. '12 YTD Actual
Oct. '11 YTD Actual
Yr/Yr % change
Golf
1,674
1,331
25.8%
17,771
15,185
17.0%
GTI
966
1,214
-20.4%
14,226
14,402
-1.2%
Golf R
274
N/A
N/A
3,325
N/A
N/A
Total Golf/GTI
2,914
2,545
14.5%
35,322
29,587
19.4%
Jetta
11,253
11,350
-0.9
121,399
126,962
-4.4%
SportWagen
2,223
1,709
30.1%
19,105
23,085
-17.2%
Total Jetta
13,476
13,059
3.2
140,504
150,047
-6.4%
Beetle
2,439
1,516
60.9
24,005
2,440
883.8%
NBC
N/A
N/A
N/A
0
841
-100%
Total New Beetle
2,439
1,516
60.9
24,005
3,281
631.6%
Eos
331
564
-41.3%
5,529
6,730
-17.8%
Passat
8,355
5,040
65.8%
92,017
9,877
831.6%
Passat Wagon
N/A
N/A
N/A
N/A
56
-100.0%
Total Passat
8,355
5,040
65.8%
92,017
9,933
826.4%
CC
2,238
2,025
10.5%
17,253
25,354
-32.0%
Tiguan
2,752
1,721
59.9%
25,606
21,737
17.8%
Touareg
965
725
33.1%
8,077
5,578
44.8%
Routan
841
834
0.8%
9,087
11,241
-19.2%
Total Sales
34,311
28,029
22.4%
357,400
263,488
35.6%

About Volkswagen of America, Inc.
Founded in 1955, Volkswagen of America, Inc. is headquartered in Herndon, Virginia. It is a subsidiary of Volkswagen AG, headquartered in Wolfsburg, Germany. Volkswagen's operations in the United States include research and development, parts and vehicle processing, parts distribution centers, sales, marketing and service offices, financial service centers, and its state-of-the-art manufacturing facility in Chattanooga, Tennessee. Volkswagen is one of the world's largest producers of passenger cars and Europe's largest automaker. Volkswagen sells the Beetle, Eos, Golf, GTI, Jetta, Jetta SportWagen, Passat, CC, Tiguan, Touareg and Routan vehicles through approximately 600 independent U.S. dealers. Visit Volkswagen of America online at www.vw.com or media.vw.com to learn more.
Author: