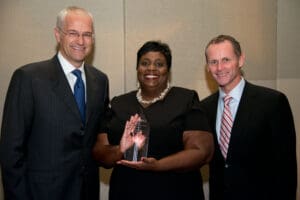 The award recognizes pioneering women in the auto industry
Herndon, VA –  Volkswagen Group of America is proud to announce that Machelle Williams, general manager of organizational development and diversity, Human Resources, Volkswagen Group of America, has been named "Woman of the Year" by the National Association of Minority Automobile Dealers (NAMAD). Williams, a 17-year veteran of the Volkswagen Group, was selected for her industry leadership and outstanding contributions to advancing diversity and inclusion in the workplace.
Over the years, Williams' hard work and dedication have afforded her remarkable growth and advancement within the Volkswagen family. After a decade supporting Volkswagen Credit, Inc. in Libertyville, Ill., she has spent the past seven years leading Volkswagen Group's Talent Management organization, which includes talent strategy, employee development and engagement, leadership development, recruiting and executing high-impact diversity initiatives.
"Machelle's longstanding service to the Volkswagen family, and her commitment to promoting diversity within the organization has earned her well-deserved recognition," said Jonathan Browning, president and CEO, Volkswagen Group of America. "She is an exceptional asset to our company, the automotive industry and to the communities she serves; we couldn't be more delighted to see her receive this award."
Williams was recognized during an awards ceremony at NAMAD's 2012 Annual Membership Meeting in Las Vegas on July 26. Also being recognized is Carl Barnett, Sr., president of the Barnett Auto Group, who has earned NADA's Lifetime Achievement Award. Barnett owns Onion Creek Volkswagen in Austin, Texas, among other dealerships across the country.
Outside of work, Williams is also devoted to the betterment of rising minority leaders in her community and the communities in which Volkswagen has operations. She currently serves on the board of the Urban League of Greater Chattanooga and the InRoads Mid-Atlantic board.

About Volkswagen Group of America, Inc.
Volkswagen Group of America, Inc. is a wholly owned subsidiary of Volkswagen AG, the world's third-largest automaker and the largest carmaker in Europe. It operates a manufacturing plant in Chattanooga, Tenn., and houses the U.S. operations of a worldwide family of distinguished and exciting brands including Audi, Bentley, Bugatti, Lamborghini and Volkswagen, as well as VW Credit, Inc. Founded in 1955, the company's headquarters are in Herndon, Va., Volkswagen Group of America brings to the U.S. vehicles that marry the science of engineering and the art of styling, with the goal of offering attractive, safe, and environmentally sound automobiles that are competitive and set world standards in their respective classes. The company has more than 4,500 employees in the United States and sells its vehicles through a 940-strong dealer network. With increasing popularity for its brands in the U.S., the company has set the goal of reaching one million car sales in the country by 2018.

About the National Association of Minority Auto Dealers (NAMAD)
The National Association of Minority Auto Dealers (NAMAD) founded in 1980 and led by African American, Latinos, and Asian/Pacific Islanders is based in Lanham, Maryland and represents ethnic minority automobile dealers in the United States. Currently, there are a total of 19,000 new automobile dealerships of which less than 1,200 or 5% are owned by ethnic minorities.
Author: