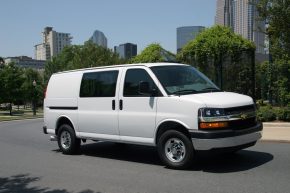 BINGHAM FARMS, Michigan –  April 10th, 2012 – The 7th annual Vincentric Best Fleet Value in America™ awards were announced today, with General Motors and Toyota topping the winners list with 9 and 7 winners respectively. Other brands earning multiple awards were Ford, Hyundai, Chrysler Group, Volvo, and BMW.
The General Motors product line showed its strength in the van and heavy duty pickup segments, while Toyota earned its awards with a well-balanced line-up in the passenger vehicle and crossover classes, including winners in 3 out of 4 hybrid segments. The Mercedes-Benz Sprinter performed strongly, winning three of the heavy duty van segments. Chrysler Group and Hyundai showed growing product strength in the fleet industry with three winners each, with the Hyundai Sonata laying claim as a serious fleet choice in the popular mid-size sedan segment. In the high-volume ½ ton pickup segment the Ford F-150 was the 2012 winner.
"By taking into account a wide range of lifecycle scenarios using all ownership costs, our awards enable organizations to understand and evaluate the best vehicles for their fleet," stated David Wurster, President of Vincentric. "Fleet operators, fleet management and leasing companies, and fleet dealers can all benefit from utilizing comprehensive and dynamic cost-of-ownership data to make informed vehicle choices."
To determine the 2012 Vincentric Best Fleet Value in America awards, Vincentric analyzed over 2,700 vehicle configurations in 20 different lifecycle cost scenarios, using 8 cost factors including depreciation, fees and taxes, financing, fuel, insurance, maintenance, opportunity cost, and repairs. The lifecycle costs were measured in all 50 states plus DC, with the resulting 21,000,000+ lifecycle cost measurements then reviewed to determine the winning vehicles.
Further information regarding all of the winners of the Vincentric Best Fleet Value in America awards for the 2012 model year and the Vincentric methodology is available at www.vincentric.com.
ABOUT VINCENTRIC

Vincentric provides data, knowledge, and insight to the automotive industry by identifying and applying the many aspects of automotive value. Vincentric data is used by organizations such as Yahoo! Autos, AOL, Cars.com, Chevrolet, Toyota, BMW, Kiplinger.com, Business Fleet Magazine, Volvo, NADA Guides, The AutoChannel.com, and Fleet-Central.com as a means of providing automotive insight to their clientele. Vincentric, LLC is a privately held automotive data compilation and analysis firm headquartered in Bingham Farms, Michigan.
Author: