The Internet landscape is constantly evolving. Yearly, monthly and even daily new changes to how a consumer searches for products and services online are rolled out. The task of keeping up can be daunting for even the most Internet savvy dealer.
One of the ways that you can be the most effective in getting your dealership to the top of the heap with the least out of pocket, in comparison to more traditional advertising sources, is search engine optimization. Understand that SEO is much more than the latest and hottest Internet buzzword; SEO is targeted marketing that can get you in front of who you really want to see you…car shoppers.
Another important aspect of your dealership's online presence is your online reviews. Increasingly, people are utilizing reviews to help decide which dealership they will buy a car from or where they will take their car for service. Dennis Colome, vice president, sales & marketing, at eXtéresAUTO, will cover best practices for asking and receiving positive reviews from your happy customers and show you how to make your positive reputation the envy of your competitors. Dennis Colome is sharing his expertise with you.
What will you learn and what action items will you take back to the dealership?
1. Learn the real facts about how to build a robust SEO strategy that plays by Google's rules.
2. Learn how to define a reputation management process that improves your overall reputation, presence in search and has the greatest impact on your bottom line.
3. Learn how to handle the increase in phone calls (a result of having a tremendous review presence) and get the most out of them.
4. Hear best practices for how to allocate your marketing budget between online and traditional marketing sources.
5. Learn to identify when it makes sense to use PPC advertising.

Dennis Colome is vice president, sales & marketing, at eXtéresAUTO, the leading search asset management provider, combining the number one dealer-rated SEO and online reputation management solutions for dealerships. Colome started selling cars in 1976 and spent 14 years running his own dealership before consulting for dealerships. He's widely recognized as one of the country's top dealership trainers and a pioneer in helping auto retailers adapt their businesses to meet the needs of the ever-evolving Internet customer. With nearly three decades of industry experience, his career spans positions at Autobytel Inc., izmocars, Half a Car Group and Reynolds & Reynolds, prior to joining eXtéresAUTO.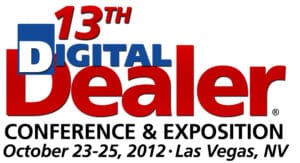 A 13th Digital Dealer® Conference & Exposition Featured Speaker: Dennis Colome presents:  Building an Effective Online Presence and Exploring the Truth about PPC vs. Organic Search: Weed through the confusion and get the true facts about building an online presence that will be the envy of your competitors.
We're building out the agenda, selecting speakers and topics for more than 100 sessions that are laser-focused on all things digital.
The Digital Dealer Conference & Exposition is the premier educational conference and expo dedicated to Internet and technology solutions for automotive professionals. Digital Dealer events deliver the largest array of speakers, peer to peer opportunities, and exhibit hall offerings – all carefully designed to impart cutting edge business strategies. With an audience of the industry's most progressive dealers and managers and the most innovative conference format, Digital Dealer provides the ultimate learning and networking environment.  For more information, visit:  www.DigitalDealerConference.com
Author: