In their drive to compete and differentiate, OEMs are spending hundreds of millions of dollars to create an integrated experience for consumers. This experience is anchored around creating a holistic brand message from vehicle purchase, ownership experience, and ultimately, re-purchase. The service related aspects of this strategy bring significant focus on customer satisfaction – emphasizing value, convenience and trust – with the end goal to increase vehicle and parts sales through brand loyalty, re-purchase activities, and referrals.
Chris Ice vice president of products at Xtime, will discuss with you these vertically integrated digital strategies, touching on service marketing, OEM sponsored roadside and loyalty programs, and telematics – highlighting what happens when these tools are integrated and functioning well. Chris Ice is sharing his expertise with you.
What will you learn and what action items will you take back to the dealership?
1. Learn how to obtain a checklist of customer touchpoints and technologies involved.
2. Learn how to integrate marketing and transactional messages.
3. Learn a short list of actions dealers can do immediately to leverage the changes.
4. Learn about the integrated experience currently underway.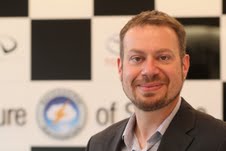 Chris Ice joined Xtime in 2008. As vice president of products, he is responsible for gathering and prioritizing customer requirements, developing the overall product roadmap, and producing formalized product training and documentation. He has over 17 years of software and IT experience in such diverse industries as defense and aerospace, industrial automation, transportation and logistics, professional services, high-tech/networking products, and automotive – spanning many Fortune 100 and 500 companies along the way. He received his degree in manufacturing engineering from Bradley University and is recognized as the company "gearhead" through his restoration and racing of vintage sports cars, race cars, and motorcycles.
A 13th Digital Dealer® Conference & Exposition Featured Speaker: Chris Ice presents:  The Impact of Technology on Service Consumers' In-dealership Experience: How emerging technology impacts the customer's overall service experience.
We're building out the agenda, selecting speakers and topics for more than 100 sessions that are laser-focused on all things digital.
The Digital Dealer Conference & Exposition is the premier educational conference and expo dedicated to Internet and technology solutions for automotive professionals. Digital Dealer events deliver the largest array of speakers, peer to peer opportunities, and exhibit hall offerings – all carefully designed to impart cutting edge business strategies. With an audience of the industry's most progressive dealers and managers and the most innovative conference format, Digital Dealer provides the ultimate learning and networking environment.  For more information, visit:  www.DigitalDealerConference.com
Author: