Used vehicles are like children—each one has its own personality and each requires different techniques to reach its full potential. John Griffin, vAuto senior vice president of performance management, shares how dealers and managers can leverage each used vehicle's unique 'story' more effectively through metrics-driven online merchandising.
Find out how to establish merchandising performance benchmarks that maximize each car's market appeal and profitability potential. You will get an inside look at proven in-store processes to reduce the time to post vehicles online, track SRP/VDP conversions to protect each vehicle's profit potential and ensure a pixel-perfect presentation for every car, every time. Bonus: John will reveal to you how today's technology helps dealers "right-size" their online merchandising investments and acquire the "right" vehicles to meet profitability and market penetration goals. John Griffin is sharing his expertise with you.
What will you learn and what action items will you take back to the dealership?
1. Learn to correctly address the four must-meet factors to maximize online merchandising conversions.
2. Learn how to establish and track online merchandising benchmarks on an inventory and per-vehicle basis.
3. Learn how to use online merchandising benchmarks to measure the sales throughput and return on investment (ROI) from classified sites.
4. Learn how to grade your dealership's "pixel proficiency."
5. Learn how to integrate online merchandising performance into used vehicle inventory acquisition decisions.
John Griffin, SVP of Performance Management, brings a wealth of automotive retail experience to the vAuto management team. Griffin has more than 20 years of executive management experience at some of the most successful dealer groups in the country. Designing and implementing highly effective sales and operational management processes throughout his career, he has developed a specialty as an accomplished trainer, providing results-driven best practice programs for all levels of dealership personnel. Griffin has also provided consulting services to manufacturers, re-marketers, auctions and suppliers in the automotive industry. Griffin received his B.S. in economics from the University of Dayton, and his M.B.A. from DePaul University's Graduate School of Business. He has also completed comprehensive management training through OEM executive and dealer development programs.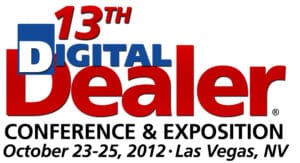 A 13th Digital Dealer® Conference & Exposition Featured Speaker: John Griffin presents:  Turning Cars into Stars through Online Merchandising: This session will help dealers enhance used vehicle profitability by optimizing their merchandising on classified sites and managing each car's performance to market-based benchmarks.
We're building out the agenda, selecting speakers and topics for more than 100 sessions that are laser-focused on all things digital.
The Digital Dealer Conference & Exposition is the premier educational conference and expo dedicated to Internet and technology solutions for automotive professionals. Digital Dealer events deliver the largest array of speakers, peer to peer opportunities, and exhibit hall offerings – all carefully designed to impart cutting edge business strategies. With an audience of the industry's most progressive dealers and managers and the most innovative conference format, Digital Dealer provides the ultimate learning and networking environment.  For more information, visit:  www.DigitalDealerConference.com
Author: