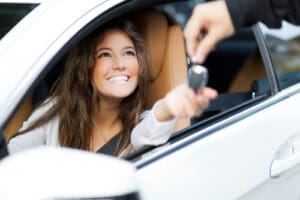 Selling cars can be a competitive business to say the least. The high number of dealerships and qualified salespeople make it a necessity to have and use all the available tools out there to ensure you are providing the most information and the best customer service possible to potential clients. With that in mind, it only makes good business sense to make sure you have a reliable mobile device like the Samsung Galaxy Note 3 to give you access to a wide variety of tools and apps that can help you close the deal.
Attention
Before anything else, you need to attract customers to your dealership. Social media isn't just for posting selfies and where you ate dinner, but can be utilized to attract customers to what you are offering. In an article on InformationWeek, general manager of Paragon Auto Group Brian Benstock is asked if social media helps to sell cars. His answer? Absolutely. Social media helps you connect with your audience and local community. You can post about sales and promotions or even about sponsorships or charity work your dealership does in the community. Also, Benstock warns that you need to have excellent customer service so that clients post positive comments on your social media pages rather than complaints. The best part of social media is that it is easily accessible from your phone, so you can post pictures, reply to customers and attract new customers from anywhere.
Comparison
Car buyers love to compare, and the number one thing that they like to compare is price so that they know they are getting the best possible value for the car of their dreams. Here is where having a phone with reliable and fast Internet can help you. Not only can you browse competitor's websites to compare prices, but you can access apps like Kelley Blue Book, which gives you pricing details. This will impress your customers by saving them a ton of time and effort and giving them excellent customer service. You also can use your phablet to compare various makes and models. By taking advantage of apps like Cars.com, you can line up different models to get an immediate comparison of important features like fuel economy and available upgrades.
Testing
Customers also love to see what their potential vehicles are capable of. Whether you are selling a top model sports car with second to none acceleration and handling or a durable off-road monster, showing them just what their future dream car or truck can do can often clinch a sale.
So, how can technology help you on a test drive? Apps like Edmunds can provide you with a variety of pictures as well as access to a huge library of video reviews and test drives that show the capabilities of vehicles that your client might not get to experience on a standard test drive. Plus, if you dabble in the field of used cars, having immediate access to the Carfax app whenever a customer asks about the car's history can quickly show them that you are more concerned with their satisfaction than just trying to unload inventory.
Remember, finding and keeping customers is no longer just about who has the lowest prices. The savvy buyer is looking for a company that provides excellent customer service and is not solely concerned with the bottom line. Being willing to go above and beyond can save your customers time, effort and money and can be the difference between a window shopper and a lifelong client.
Author: