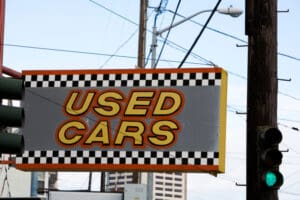 According to the latest Kelley Blue Book Blue Book Market Report, used-vehicle values have dropped 2.6 percent overall in October, marking the fifth consecutive month of wholesale declines.  Since peaking in June, used-vehicle values overall have dropped 10 percent with the most pronounced declines coming from fuel-efficient vehicles, falling more than 20 percent.  The earthquake in Japan and ensuing new-vehicle inventory crunch only added more fuel to the fire.
THIS MONTH'S REPORT INCLUDES: 
MARKET ANALYSIS  
Fuel-Efficient Bubble Bursts
Since June, fuel-efficient subcompact, compact and hybrid-car values have taken the biggest hits, dropping nearly 20 percent.  Rising fuel prices through the summer created a bubble in values of fuel-efficient subcompact, compact and hybrid cars that has now burst.  Although these vehicles have been on the decline since June, they are still up 4 percent on a year-to-date basis.  Declining fuel prices have been the primary driver in the depreciation of these vehicles; although, we should point out that most of the excess appreciation was shed in the third quarter…
Trucks Keep Pace with Overall Market
Values of trucks and SUVs have declined slightly through most of 2011, even as fuel prices increased to $4.00 per gallon.  Supply constraints have helped to minimize year-to-date depreciation to only 7 to 8 percent so far this year, significantly less than the 30 percent declines that occurred in 2008…
Share of Fuel-Efficient Vehicle Sales on Decline, Trucks Rebounding
As fuel prices approached $4.00 per gallon earlier this year, demand shifted away from trucks and SUVs and toward smaller more fuel-efficient compact and hybrid cars.  We have already covered the pronounced swings in values that have resulted from this trend, but what has received far less attention has been the fluctuations in new-vehicle sales mix that have been impacted by gas price volatility…
Values to Rebound in First Quarter 2012
Although values are expected to decline in the fourth quarter, Kelley Blue Book analysts predict sales will pick up early in 2012.  Projections for 2012 see values bouncing back in the first quarter as dealers return to the auction lanes to take advantage of seasonally low values… 
Japanese Market Share Still Hampered by  Mother Nature, Improving
As inventory has improved during the past several months, Japanese brands have slowly increased their monthly share of overall sales.  Sales hit their lowest point of the year in May when Japanese brands only accounted for 30 percent of all sales in the U.S., a rather significant decline from the 40 percent market share the Japanese consistently maintained through the last five years… 
2011 May End Strong, Weak Economic Conditions Still Expected to Limit New-Vehicle Sales in 2012
With the economy expected to remain relatively soft in 2012, Kelley Blue Book does not expect a dramatic increase in the number of new vehicles sold next year.  Even with the strong new-car sales in September and October, Kelley Blue Book analysts still expect to finish 2011 with more than 12.5 million vehicles sold, a million unit increase over 2010…
LATEST HOT USED-CAR REPORT 
Hybrid Vehicles Show Greatest Decline in Share on Kbb.com; Dealers Should Be Cautious Adding Alternative-Fuel Models to Inventory
The hybrid market is in a free fall this month with all three hybrid segments on kbb.com posting double-digit declines in traffic share.  Highlighting this downward trend is the hybrid-cars category, dropping 57.8 percent in share month-over-month, which is the greatest decline in the short history of this report.  The greatest decline in this segment previously was 13.2 percent.  Not only is this event significant due to the magnitude of the decline, but it also is a stark contrast to trends previously observed…
Click here to read the full report from Kelley Blue Book. 
Author: