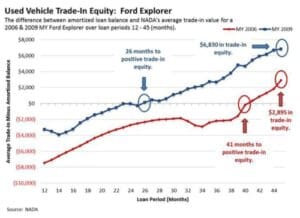 MCLEAN, Va. — A declining supply of used vehicles, strong consumer demand and improving vehicle quality have resulted in higher trade-in equity on many used cars and light trucks.
"Higher trade-in equity on used vehicles will help facilitate the release of pent up demand for a growing number of consumers making the jump off the sidelines and into a vehicle purchase," said Jonathan Banks, executive automotive analyst with the NADA Used Car Guide. "The equity position that consumers find themselves in today is better, and in some cases, dramatically better than it was three years ago."
For example, in 2006 it took a consumer who purchased a new Ford Explorer XLT 4WD with a 6-cylinder engine 41 months of loan payments or nearly 3.5 years to reach a positive equity position. After 45 months of ownership, equity in the vehicle reached $2,895.
Fast forward three years, in 2009 it took a consumer who purchased a new Ford Explorer XLT 4WD with a 6-cylinder engine just 26 months, or 15 months faster than the individual who bought in 2006 to reach an equity position. The equity stake after 45 months of ownership jumped to $6,830, or nearly $4,000 more than three years earlier.
Rising Trade-In Equity of 3-Year-Old Vehicles in 2012 Compared to 2009
Make
Model
Avg. Trade-in Value of

*2006 MY in 2009

Avg. Trade-in Value of

*2009 MY in 2012

$ Difference
% Difference
Hyundai
Elantra

4D GLS 2.0L I4

$5,012

$8,875

$3,863

77%

Chevrolet
Cobalt

4D LT 2.2L I4

$6,063

$8,290

$2,227

37%

Kia
Sportage

4D LX 4WD 2.0L I4

$7,547

$11,397

$3,850

51%

Chrysler
300

4D 300C 5.7L V8

$12,727

$19,528

$6,801

53%

Ford
F150

SuperCrew XLT 4WD 5.4L V8

$15,730

$22,552

$6,822

43%

Chevrolet
Tahoe

4D LT 4WD 5.3L V8

$18,287

$25,139

$6,852

37%

Mercedes-Benz
E Class

4D E350 3.5L V6

$17,902

$25,150

$7,248

40%

Honda
Accord

4D LX 2.4L I4

$9,809

$11,334

$1,525

16%

Ford
Explorer 4D XLT 4WD 4.0L V6
$10,964

$15,314

$4,350

40%

Dodge
Grand Caravan

SXT 3.8L V6

$8,225

$12,633

$4,408

54%
* NADA average trade-in values for 2006 and 2009 model year vehicles in the third quarter of 2009 and 2012, respectively.
NADA estimates that used-vehicle depreciation averaged just 13.1% from 2009 through 2011, or about nine percentage points better than the 22% average rate of loss recorded over the past 10 years. (See the recently released NADA report, Volatility in Used Vehicle Depreciation, for more detail on pricing trends).
For additional information, click here for the September issue of Guidelines, a monthly report that provides an industry and economic analysis as well as used-vehicle pricing information and trends for cars, light trucks and commercial trucks.
About the NADA Used Car Guide

Over a 79-year history, the NADA Used Car Guide has earned its reputation as the leading provider of accurate vehicle valuations and auction data. NADA offers a wide range of vehicle values, including those for used passenger car, light-duty and commercial truck, motorcycle, classic car and many more specialty vehicles. Available in a variety of delivery methods, NADA's products and services are used daily throughout the auto, finance, fleet-lease, government and insurance industries. For more information, visit www.nada.com/b2b. Follow the NADA Used Car Guide on Facebook.
The NADA Story

The NADA story began in 1917 when 30 auto dealers traveled to the nation's capital to convince Congress not to impose a luxury tax on the automobile. They successfully argued that the automobile is a necessity of American life, not a luxury. From that experience was born the National Automobile Dealers Association. Today, NADA represents nearly 16,000 new-car and -truck dealers, with 32,500 franchises, both domestic and international. For more information, visit www.nada.org. Follow NADA on Facebook and Twitter.
SOURCE National Automobile Dealers Association
Author: