When it comes to used cars it's all about the money. Frank Alfano, used car workshop manager and in-store trainer for Tim Deese and Progressive Basics Used Car Manager Training School, will give you five easy ways to increase sales and net.
Dealers and managers need to change the way they're thinking. Yesteryear's myth: To sell 100 vehicles you need to stock 200 vehicles. Today's myth: To sell more you need to price to market. The truth is to stop looking at used cars as cars and to look at them as investment capital. Having your used car manager properly managing your money in today's market will assure you a net profit and the ability to grow. Frank Alfano is sharing his expertise with you.
What will you learn and what action items will you take back to the dealership?
1. Learn how to appraise more cars and trade more units. Learn how to measure the proper number of appraisals each day.
2. Learn to tell the story to the consumer. Develop a systematic approach.
3. Learn about holding cost and its relationship to aging (how much it costs to hold a car every day).
4. Learn how to use your CRM system to train your people better and to improve productivity.
5. Learn how to manage your inventory like the cash investment it is.

Frank Alfano is a used car workshop manager and in-store trainer for Tim Deese and Progressive Basics Used Car Manager Training School. Alfano has been in the auto industry his entire life. He started cleaning tools as a child and progressed through the ranks to dealer. He has been a trainer with Tim Deese and Progressive Basics since 2000 and has had the honor of working with over 20,000 car people throughout the world. His extensive automotive knowledge takes him into dealerships across the country and around the globe on a monthly basis.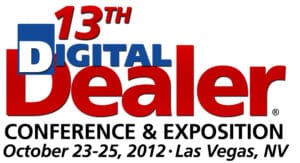 A 13th Digital Dealer® Conference & Exposition Featured Speaker: Frank Alfano presents:  Five Best Practices to Sell More and Net More in your Used Car Department: It's time to get out of the used car business and into the money business.
We're building out the agenda, selecting speakers and topics for more than 100 sessions that are laser-focused on all things digital.
The Digital Dealer Conference & Exposition is the premier educational conference and expo dedicated to Internet and technology solutions for automotive professionals. Digital Dealer events deliver the largest array of speakers, peer to peer opportunities, and exhibit hall offerings – all carefully designed to impart cutting edge business strategies. With an audience of the industry's most progressive dealers and managers and the most innovative conference format, Digital Dealer provides the ultimate learning and networking environment.  For more information, visit:  www.DigitalDealerConference.com.
Author: