Used Car Shoppers Benefit from Old Man Winter's Wrath, from CBS8.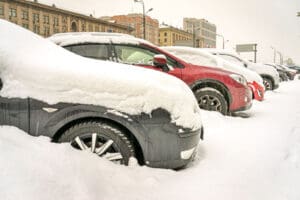 Extreme weather put a chill on February's price growth, keeping used market prices lower than usual.
MCLEAN, Va., March 12, 2015 /PRNewswire-USNewswire/ — February's harsh weather in states east of the Mississippi River didn't just damage property and make infrastructure a mess; it adversely affected the used vehicle market as well according to the latest report by NADA Used Car Guide.
When a dealer buys a used vehicle for resale, they often do so at a wholesale auto auction. Prices of 8-year-old or newer used autos usually tick up a little during the beginning of the year at these auctions before dropping off. The rate of price growth in February, however, was much lower than usual.
According to Jonathan Banks, executive analyst at NADA Used Car Guide, "Since the inclement weather possibly prevented dealers from attending auctions?and customers from commuting to dealer lots?demand wasn't as strong as it usually is in February." Banks went on to state, "As a result, prices were almost a full percentage point lower than the historical average we've tracked since 1996…consumers should know the savings trend won't last for long, as pent-up demand and tax refund checks will fuel spring season purchases."
Click here to read the entire article >>
Author: