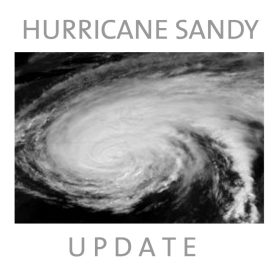 DETROIT – We continue to monitor the impact of Hurricane Sandy on our manufacturing operations.  At this point, we're not seeing significant delays in our supply base deliveries. GM Baltimore Operations cancelled production for Tuesday and is on track to resume Wednesday.
Most dealers in storm-affected areas were closed Tuesday and some in low-lying areas have reported flood damage. Through the end of the day Tuesday, we've received no reports of injuries to our dealership employees or their families as a result of the storm. Our dealerships continue to work through the difficulties created by Sandy, and are striving to reopen their doors as quickly as possible. We continue to assess the storm's effect on our business and will report October sales at 10 a.m. EDT on Thursday.
General Motors Co. (NYSE:GM, TSX: GMM) and its partners produce vehicles in 30 countries, and the company has leadership positions in the world's largest and fastest-growing automotive markets.  GM's brands include Chevrolet and Cadillac, as well as Baojun, Buick, GMC, Holden, Isuzu, Jiefang, Opel, Vauxhall and Wuling. More information on the company and its subsidiaries, including OnStar, a global leader in vehicle safety, security and information services, can be found at http://www.gm.com.
Author: