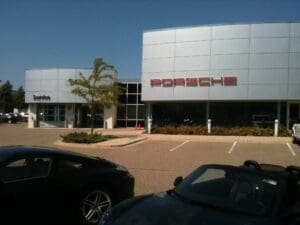 MINNEAPOLIS — Twin Cities Automotive (TCA), part of the Pohlad Companies, announced that it had signed a purchase agreement with LeJeune Investment, Inc., to acquire its auto dealerships.
Included are Carousel Audi and Porsche in Golden Valley, Minn., and Audi, Mercedes-Benz and Porsche in Maplewood, Minn. The transaction is expected to close in the fourth quarter of 2012."We are excited about the opportunity to acquire these high quality brands from LeJeune Investment. Their entire organization has built a strong and successful business, and we look forward to continuing that high level of service and commitment," said Jay Hulbert, President of Twin Cities Automotive. "The Carousel and Maplewood dealerships will complement our existing brands and organization, and we look forward to welcoming their people," added Hulbert.
Larry LeJeune, Chairman of LeJeune Investment, Inc. which began in the steel business in the 1940s and today has many business interests including the auto dealerships, stated, "LeJeune and TCA share family-oriented corporate cultures and values, and are known for the quality of their operations. This will ensure a good fit with our employees, customers and other partners, and the extension of our business legacy going forward."
Twin Cities Automotive was formed in 2008 with the acquisition of BMW of Minnetonka. TCA acquired four additional dealerships in subsequent years, including Coon Rapids Chrysler Jeep Dodge Ram, Inver Grove Hyundai, St. Cloud Hyundai, and North Branch Chevrolet.
About the Pohlad Companies
Founded by Carl R. Pohlad in the 1950s, the Pohlad Companies has diversified in many industries that include banking, financial services, entertainment, commercial real estate, retail, automotive, technology, and the Minnesota Twins. Led today by James, Robert and William Pohlad, its business interests continue to grow as does its commitment to its employees, customers and community.
Author: