Plans to relocate dealership to highly visible site along I-35
MINNEAPOLIS — Twin Cities Automotive (TCA), part of the Pohlad Companies, announced that it is breaking ground today on a $2.8 million facility for its North Branch Chevrolet dealership in North Branch, Minn.
TCA plans to relocate the dealership from its current site at 5660 392nd St. in North Branch, to a new, highly visible site two miles away at 38420 Tanger Drive, adjacent to Interstate 35. A groundbreaking ceremony will take place today at 4 p.m. at the new site.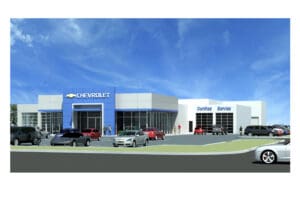 TCA acquired North Branch Chevrolet earlier this year, signaling the company's interest in increasing its presence in the domestic auto market, particularly in rural markets. TCA also owns Coon Rapids Chrysler Jeep Dodge Ram.
While the new North Branch Chevrolet dealership will be approximately the same size as the previous facility at 20,000 square feet, plans are to increase inventory by 40 percent and bolster hiring. The new location is expected to open Spring 2013.
"We are a Minnesota company making an investment in Minnesota," Jay Hulbert, president of TCA, said. "When we acquired the dealership, we knew we needed to build a new facility. We think it makes sense to invest in North Branch Chevrolet and believe strongly in its bright future, and in the future of North Branch."
North Branch Chevrolet currently has 38 employees, many of them long-term employees from the local area, according to Jerry Moe, general manager of the dealership. "We are delighted to have so many employees who know this community and their customers, and we are already beginning to add to our employee base," he said.
The move comes on the heels of TCA's acquisition in August 2012 of Carousel Audi and Porsche in Golden Valley, Minn., and Audi, Mercedes-Benz and Porsche in Maplewood, Minn. That deal is expected to close in the fourth quarter.
TCA has a balanced portfolio of dealerships in metro and rural markets, and across three categories – domestic, mainstream Asian, and high-end luxury. "We are interested in communities like North Branch where we think the customer is underserved," Hulbert said.
TCA was formed in 2008 with the acquisition of BMW of Minnetonka by the Pohlad Companies. TCA acquired four additional dealerships in subsequent years, including Coon Rapids Chrysler Jeep Dodge Ram, Inver Grove Hyundai, St. Cloud Hyundai and North Branch Chevrolet.
About the Pohlad Companies
Founded by Carl R. Pohlad in the 1950s, the Pohlad Companies has diversified in many industries that include banking, financial services, entertainment, commercial real estate, retail, automotive, technology, and the Minnesota Twins. Led today by James, Robert and William Pohlad, its business interests continue to grow, as does its commitment to its employees, customers and community.
Author: