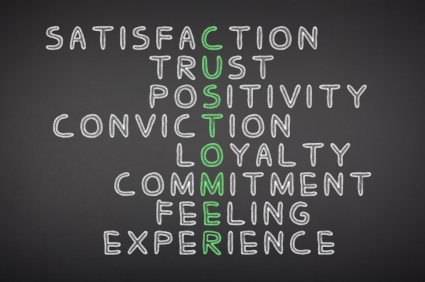 This time, it's all about trust. Trust contributes to customer loyalty, but how do you get there? How do you effectively build customer trust in your brand so that people come to view your company as an automotive dealership that values its customers and works hard to maintain their quality vehicles?
As always, great service comes first. Knowledgeable and friendly customer service staff create customers who trust your business, your products, and your services. Therefore, it's essential to provide staff with the tools they need to provide the "absolutely top notch best service I've ever had" level of customer care. Automated messaging is one of these tools.
Automated messages help you gain and keep your customers' trust by providing consistency, increasing personalization, and making customers' lives easier. Oh, and automation also reduces your workload and saves you time.
Provide Consistency
Trust is based largely on consistency: when a customer knows that you care about their satisfaction every time you interact with them (and not just when you are trying to make the initial sale) it goes a long way toward earning their trust.
With an automated message solution, you can consistently send messages to each customer based on their needs. An automated message can be sent every month, for example, to help you reconnect with the customer. You can offer them a seasonal coupon, send a birthday message, remind them of an upcoming check-up, provide automotive maintenance tips and more.
With a series of short, focused messages, you can stay in touch with your customers year round and create a sense of consistent automotive care. Customers can opt out of receiving messages at any time, but you may be surprised at how many customers will truly appreciate the helpful messages.
Bonus: If a customer is receiving your messages every month (as long as they are informative, or provide value such as a promotional coupon), who will they think of when it comes time to purchase an auto part or get their annual check-up? You! Consistent branded messages keep your dealership in the front of customers' minds.
Offer Personalized Care
If you have a personal connection with your customers and you are focused on meeting their individual needs, you can quickly build up trust. Personalizing messages to each of your customers is not hard with the help of an automated communication solution. The solution will keep track of a customer's purchase history, vehicle condition and history, individual appointment dates, contact information and any other available data. The solution can use any of this data to send messages that focus on the unique needs of each customer.
For example, Lee's customer profile shows that he is due for an oil change. The system sends him an oil change reminder. Lee purchased his car on September 19. That date rolls around again and the system sends Lee a special promotion that celebrates his initial purchase and helps him save money on his next appointment. A part from Lee's car is recalled by the manufacturer. The system sees that Lee owns the recalled brand and sends him a quick recall notice.
Each customer can have their very own automotive campaign, which is completely automated. You can intervene at any time to change messages or prevent them from being sent, but other than that you don't have to worry about it. Each customer in your system receives well-timed messages that are based on their individual needs and dates.
Make Your Customers' Lives Easier
Everyone is busy. If you make your customer's day easier, that customer will trust that you care about their needs. Remembering to book an oil change or a routine maintenance appointment can easily slip your mind and trying to remember the time and date of the automotive appointment is often a challenge as well.
Keep your customers up to date (and reduce the amount of customers who don't show up to appointments) with automated reminders. You can schedule reminders for just about anything. Once you create a basic reminder message, an automated solution can send that message to each customer on the appropriate date. This way, you don't have to manually call each customer for each reminder, but your customers still receive the information they want.
Automated messages are just one of many tools that help you build trust in your brand. If you choose a comprehensive automotive communication solution, you can reach out to more customers than you ever thought possible without increasing the amount of work that your staff must do. Keep your brand in the forefront with consistent messaging, help your customers remember their important appointments, and offer highly personalized customer service year round. Automated messages help you accomplish your customer service goals while saving time and effort.
Author: