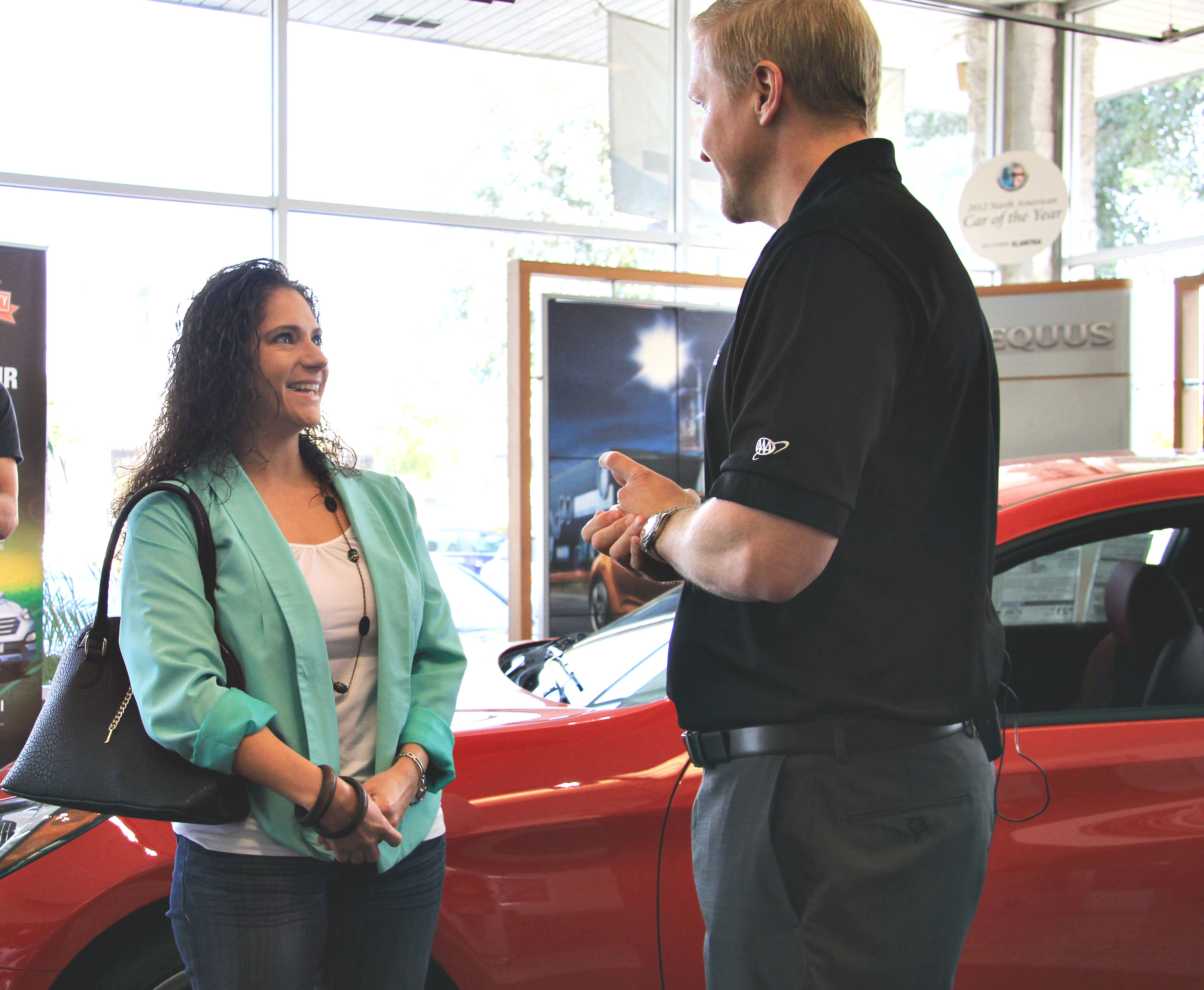 Retired Army Staff Sgt. the recipient of a new car
TrueCar, an authority on new car pricing, information, trends and forecasting since 2005, has recorded its one-millionth vehicle sale through its national Certified Dealer Network, which currently accounts for nearly three percent of U.S. monthly retail vehicle sales and more than 40,000 monthly transactions. The milestone sale took place at Parkway Hyundai in Valencia, Calif., the vehicle was purchased by retired Army Staff Sgt. Catherine Davis and it was financed through USAA and their TrueCar-powered buying service.
Following a challenging 2012 for Santa Monica, Calif.-based TrueCar, the thought of reaching 1 million sales just 11 months later seemed to be an impossible dream.
"This achievement is especially gratifying given the industry headwinds we faced last year," says TrueCar founder and CEO Scott Painter, who spent a great deal of time traveling across the country to meet dealers, listen to their concerns and then reformulate the company's dealer toolkit. "We've emerged as a stronger, more viable company as a result."
The path to 1 million vehicles included logging 400,000-plus sales so far in 2013, which means more than $31 billion has now been spent at TrueCar dealers through the years. However, Painter is quick to point out that insights from U.S. dealers, the TrueCar Dealer Advisory Board and "extremely supportive investors" led to a 2013 turnaround plan that stressed fair (not necessarily lowest) prices for consumers.
"We built a new car-buying process that is smoother and faster for all parties involved and reduces the sales process by an average of 53 minutes," says Painter. "The kind of transparency TrueCar provides is a healthy next step for the industry, and will result in an improved relationship between dealers and consumers, leading to improved profitability."
To mark the milestone sale, TrueCar paid off Davis' new Sonata.
"I don't believe it! This stuff doesn't happen to me," said Davis. "This was my second time using USAA to buy a car. I was happy because I saved $5,499 off MSRP and got a brand new car, but this is amazing!"
USAA is a diversified financial services group of companies and subsidiaries serving people and families that serve or served in the U.S. military. Along with insurance, banking, investments and financial planning, USAA also offers its 9.4 million members access to its Car Buying Service (powered by TrueCar) and auto financing, both of which Davis utilized to purchase her 2014 Hyundai Sonata.
*Based on average transaction price of a new vehicle sold in the U.S. as of November 2013.
About TrueCar, Inc.
TrueCar, Inc., headquartered in Santa Monica, Calif., with offices in Santa Barbara, Calif., San Francisco, Calif., and Austin, Texas, is an automotive pricing information and analysis company that creates a better buying experience for dealers and consumers. As an online publisher of unbiased new and used car transaction data, TrueCar.com provides price reports that empower dealers and consumers to agree on the parameters of a fair deal by supplying a transparent, simple understanding of what others recently paid for similarly-equipped new cars in their geographic area. TrueCar also owns ALG, the benchmark for vehicle value information to the automotive industry and has been forecasting residual values for nearly 50 years in both the U.S. and Canadian markets.
TrueCar is a data-driven company that sources, compiles, and analyzes car-buying information unlike anybody in the industry. This is why, since its founding in 2005, TrueCar dealer partners have sold more than 1 million vehicles across the country. Its national network of more than 6,600 Certified Dealers is committed to provide no-hassle pricing for some of the country's largest membership and service organizations, including American Express, AAA, USAA and Consumer Reports that collectively represent more than one million monthly in-market customers.
You can follow TrueCar on Twitter (@TrueCar) and become a fan of TrueCar on Facebook and Google+.
Author: