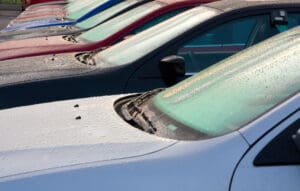 September 2012 SAAR Estimated at 14.6M; Incentive Spending Down Almost 7 Percent
SANTA MONICA, Calif. — TrueCar.com, the authority on new car pricing, trends and forecasting information, today released its September 2012 sales and incentives forecast.  The forecast shows the following:
For September 2012, new light vehicle sales in the U.S. (including fleet) is expected to be 1,163,000 units, up 10.5 percent from September 2011 and down 9.5 percent from August 2012 (on an unadjusted basis)
The September 2012 forecast translates into a Seasonally Adjusted Annualized Rate ("SAAR") of 14.6 million new car sales, up from 13.1 million in September 2011 and up from 14.5 million in August 2012
Retail sales are up 7.9 percent compared to September 2011 and down 9.7 percent from August 2012
Fleet and rental sales are expected to make up 19.1 percent of total industry sales in September 2012
The industry average incentive spending per unit will be approximately $2,468 in September 2012, which represents an decrease of 6.7 percent from September 2011 and decrease of 1.2 percent from August 2012
Used car sales* are estimated to be 3,415,790, up 5.8 percent from September 2011 and down 11.7 percent from August 2012.  The ratio of new to used is estimated to be 1:3 for September 2012
"The SAAR range so far this year has been one of the tightest in the recent history, ranging in-between 13.8 and 15.1 million," said Jesse Toprak, Vice President of Market Intelligence at TrueCar.com. "Even though the lack of big movements in car sales makes for less attractive headlines, the stable growth in sales is a positive for the industry. The stability allows for the right production adjustments and price optimization, resulting in improved profitability."
Forecasts for the top eight manufacturers for September 2012:
Unit Sales
Manufacturer
September 2012 Forecast
% Change vs. August

 2012

% Change vs. September

 2011

Chrysler
137,612
-7.3%
8.1%
Ford
177,066
-10.0%
1.3%
GM
212,284
-11.7%
2.5%
Honda
113,439
-13.6%
26.7%
Hyundai/Kia
102,283
-8.0%
16.7%
Nissan
92,349
-6.3%
-0.7%
Toyota
161,201
-14.5%
32.7%
Volkswagen
48,304
-8.1%
31.4%
Industry
1,163,000
-9.5%
10.5%
Market Share
Manufacturer
September 2012 Forecast
August 2012
September 2011
Chrysler
11.8%
11.6%
12.1%
Ford
15.2%
15.3%
16.6%
GM
18.3%
18.7%
19.7%
Honda
9.8%
10.2%
8.5%
Hyundai/Kia
8.8%
8.7%
8.3%
Nissan
7.9%
7.7%
8.8%
Toyota
13.9%
14.7%
11.5%
Volkswagen
4.2%
4.1%
3.5%
Incentive Spending
Manufacturer
September

2012

Incentives

% Change vs. August 2012
% Change vs.

September 2011

Total Spending
Chrysler
$3,256
0.9%
-3.1%
$448,124,788
Ford
$2,622
-1.9%
-7.8%
$464,217,015
GM
$3,008
-2.8%
-6.7%
$638,537,566
Honda
$2,270
-6.2%
-2.9%
$257,495,876
Hyundai/Kia
$1,294
8.9%
6.8%
$132,378,472
Nissan
$2,777
-3.9%
1.1%
$256,449,772
Toyota
$1,930
1.2%
-13.7%
$311,188,913
Volkswagen
$2,462
-1.5%
29.2%
$118,914,104
Industry
$2,468
-1.2%
-6.7%
$2,870,414,401
"Gas prices have continued their steady climb in September fueling unseasonably high sales of smaller cars while on the other end of the spectrum large trucks also performed well as small businesses have slowly started to come back to the marketplace," said Kristen Andersson, Senior Analyst at TrueCar.com.
TrueCar.com also projects sales down to the brand level, which can be viewed in its entirety at the Truth Blog on TrueCar.com.  Brand level incentive spending forecasts are available upon request.
TrueCar.com bases its forecast on actual transaction data.  The transaction data based forecast is refined by other current and historical factors that impact vehicle sales, including:  sales, inventory, incentives, fuel prices, and macro economic data (major stock market indexes, consumer confidence, new home starts, and CPI).  TrueCar.com does not adjust for selling days in year-over-year percentage change calculations.
*Used car sales figures include sales from franchise dealerships, independent dealerships and private party sales
About TrueCar, Inc.
TrueCar, Inc., headquartered in Santa Monica, Calif., with offices in Santa Barbara, Calif., San Francisco, Calif., and Austin, Texas, is an automotive pricing information and analysis company that creates a better buying experience for dealers and consumers.  As an online publisher of unbiased new and used car transaction data, TrueCar.com provides price reports that empower dealers and consumers to agree on the parameters of a fair deal by supplying a transparent, simple understanding of what others recently paid for identically-equipped new cars in their geographic area.  ALG, a subsidiary of TrueCar, is the benchmark for vehicle value information to the automotive industry and has been forecasting residual values for nearly 50 years in both the U.S. and Canadian markets.
TrueCar is a data-driven company that sources and compiles car-buying information unlike anybody in the industry.  This is why, since its founding in 2005, TrueCar dealer partners have sold over 600,000 vehicles across the country.  Its national network of more than 4,700 Certified Dealers is committed to provide no-hassle pricing for some of the country's largest membership and service organizations, including American Express, AAA, USAA and Consumer Reports that collectively represent more than one million monthly in-market customers.
You can follow TrueCar on Twitter and become a fan of TrueCar on Facebook.
Disclaimer
This press release and the information contained herein is for noncommercial use on "as-is, as available" basis and may be used for informational purposes only.  TrueCar makes no representations or warranties, express or implied, with respect to the information contained in this press release and the results of the use of such information, including without limitation, the implied warranty of merchantability, fitness for a particular purpose and non-infringement.  The information contained in this press release may include technical inaccuracies or typographical errors.  Neither TrueCar nor any of its parents, subsidiaries, affiliates or respective partners, officers, directors, employees or agents shall be held liable for any damages, whether direct, incidental, indirect, special or consequential, including without limitation, lost revenues or lost profits arising from or in connection with your use or reliance on the information presented in this press release.
SOURCE TrueCar.com
Author: