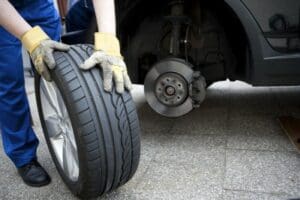 According to the National Highway Traffic Safety Administration's website, Toyota is recalling certain model year 2001 through 2004 Tacoma light trucks manufactured from August 28, 2000, through August 27, 2004, and originally sold, or currently registered, in the following cold climate states with high road salt usage: Connecticut, Delaware, Illinois, Indiana, Kentucky, Maine, Maryland, Massachusetts, Michigan, Minnesota, New Hampshire, New Jersey, New York, Ohio, Pennsylvania, Rhode Island, Vermont, Virginia, West Virginia, Wisconsin, and the District of Columbia.
NHTSA said the spare tire in the subject vehicles is located underneath the rear of the vehicle and held by a spare tire carrier. A lift plate on the carrier is used to help raise, lower and retain the tire. During its manufacture, the lift plate may not have been sufficiently coated with anti-corrosion materials. If the plate is insufficiently coated and the vehicle is operated in cold climate regions where road salts are frequently used, road spray can reach the carrier assembly and corrode the lift plate.
The recall includes 150,000 vehicles.
Click here for more information on this recall.
The Digital Dealer Virtual Expo Runs Wednesday Dec 5th – 11th, 2012 | Dealership Personnel Register Free
Author: