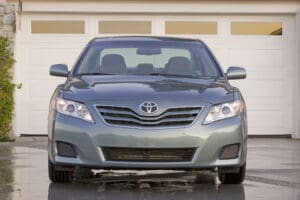 MIAMI — Toyota Financial Services surpassed dozens of competitors to win the Association for Financial Professionals' 2012 Pinnacle Grand Prize, which recognizes excellence in treasury and finance. The 12th annual Pinnacle Grand Prize, sponsored by Wells Fargo & Co. (NYSE: WFC), was presented Sunday at the Opening General Session of the AFP Annual Conference in Miami.
The Toyota Financial Services treasury team led a cross-organizational effort to establish robust transfer pricing that was consistent across product lines. Instead of using a benchmark rate as an approximate cost of funds, each loan was match-funded based on its characteristics and expected monthly cash flows. The impact helped treasury, finance, analytics, sales, and marketing make more-informed decisions and more-accurate funds transfer pricing and generate an additional $10 million in income per year.
Wells Fargo donated $10,000 to Toyota Financial Services' charity of choice, Boys & Girls Clubs of America. Steve Ellis, executive vice president and head of Wholesale Services at Wells Fargo, and Jim Kaitz, AFP president & CEO, hosted the ceremony.
Toyota Financial Services was chosen from among two other finalists: Microsoft and Cliffs Natural Resources. Toyota Financial Services, Microsoft and Cliffs Natural Resources were selected as the three Pinnacle Finalists because their dynamic solutions helped treasury and finance operations run more efficiently and effectively at their organization.
Toyota Financial Services offers retail and lease loans to more than 4 million consumers and lending loans to over 2,000 dealers. It boasts a derivatives portfolio worth $100 billion with more than $20 billion in cross-currency exposures.
"AFP is extremely proud to honor the 2012 Pinnacle Award Grand Prize winner," said Kaitz. "The theme of this year's Annual Conference is Bold Visions for the Future, and Toyota Financial Services' solution certainly meets that high standard."
ABOUT AFP®
The Association for Financial Professionals (AFP), headquartered outside Washington, D.C., serves a network of more than 16,000, members with news, economic research and data, treasury certification programs, networking events, financial analytical tools, training, and public policy representation to legislators and regulators. AFP is the daily resource for the finance profession (www.afponline.org).
AFP's global reach extends to over 150,000 treasury and financial professionals worldwide, including AFP of Canada; London-based gtnews, an on-line resource for the treasury and finance community; and bobsguide, a financial IT solutions network.
SOURCE Association for Financial Professionals
Author: