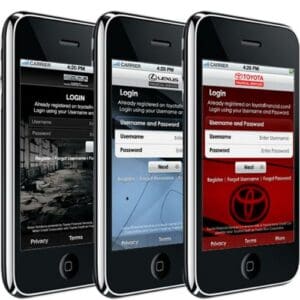 TORRANCE, Calif. — Toyota Financial Services (TFS) has just launched a first-of-its-kind iPhone app which incorporates personalized QR code technology allowing customers to access their accounts through their smart phone.  Unlike other bill payer apps, customers who download the TFS app may use their smart phone or iPad2 to simply scan a personalized QR code found on their billing statement and have instant access to their account.  While utilizing the QR code is not required to use the app, it does speed the process of paying via a mobile device.
"We launched a mobile-enhanced site for our customers back in January," explains Karen Ideno, head of Marketing & Brand at TFS. "But expectations are that in the near future, about 20% of consumers who own a smart phone will bypass on-line sites completely and pay their bills directly via their smart phone.  We needed to provide an option that would give them immediate access to their accounts, even if they've never registered on-line prior to downloading the app.  Our use of personalized QR code technology allows them to do just that."
Within the first few days of the app being available, and prior to any announcement or promotion, more than 5,200 users had already downloaded the app.  This month, customers will begin to see their personalized QR code on their billing statements with an invitation to download the app.
"We are really excited to offer this additional channel and experience for our customers who want the ease and expediency of paying via their smart phone," added Ideno. "Toyota, Lexus and Scion customers will each have an app that reflects the look and feel of their vehicle's brand, while, of course, offering each the same robust functionality and convenient account access."
TFS launched a video, accessible on its YouTube channel highlighting the new app as yet another way it is answering consumer demand for multiple means of account management:http://youtu.be/fPsxD4rSVfc
According to industry analysts, consumer trends indicate a growing number of Americans are relying less upon traditional Web sites and more on their smart phones when performing financial transactions:
20% of consumers who own an Internet-capable phone use it to pay bills (NACHA)

62% of those customers went directly to the billers' website (NACHA)
88% of the U.S. population (270 million) will have a mobile phone subscription by 2014 (Forrester)
Mobile Internet usage is expected to grow from 52 million in 2009 to 106 million in 2014 (Forrester)
Over $200 billion in payments will be collected via mobile devices by 2015 (Forrester)
Forrester also expects that nearly 18% of customers who currently don't bank on-line will be using mobile banking to access their accounts in the future.
About Toyota Financial Services
TFS is the finance and insurance brand for Toyota in the U.S., offering retail auto financing and leasing through Toyota Motor Credit Corporation (TMCC) and extended service contracts and other payment protection products through Toyota Motor Insurance Services (TMIS). TFS employs 3,300 associates nationwide, and has managed assets totaling nearly $92 billion.  It is part of a worldwide network of comprehensive financial services offered by Toyota Financial Services Corporation, a wholly-owned subsidiary of Toyota Motor Corporation.
Author: