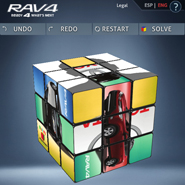 Toyota aims to trigger dealership foot traffic via mobile game, according to Mobile Marketer.
Toyota is trying to spur some in-dealership engagement with consumers through a new mobile Web game to promote its crossover Rav4 SUV.
Toyota has launched the microsite https://www.RAV4cube.com with HTML5 as the hub for the campaign. The campaign targets Hispanics and builds on a bigger digital push that Toyota has been using in its marketing this year.
"This is a way of people connecting with one another through the brand via social media," said Javier Moreno, assistant manager of corporate communications at Toyota, Torrance, CA.
Click here to read the entire post >>
Author: