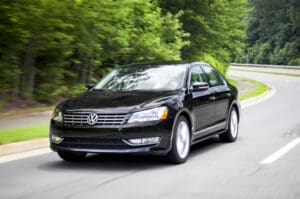 TOTD: What Should VW Do to Sell More Cars in the U.S.?, from Motor Trend.
November auto sales in the U.S. were revealed last week, and as usual, Volkswagen's numbers were much lower compared to those of its rivals. Take the Volkswagen Jetta, for example. The automaker's November report revealed 145,295 Jettas have been sold so far this year, and while that doesn't sound so bad, it does when you look at the competition. The Toyota Corolla, Honda Civic, Chevrolet Cruze, Ford Focus, and Hyundai Elantra all sold over 200,000 units during the same time.
2015 Volkswagen Tiguan Front Three Quarters In Motion The same story goes for the midsize segment, in which the Passat finished toward the bottom of the list. A large chunk of competitors finished above it, with the Passat only selling more than the Subaru Legacy, Mazda6, and the Dodge Avenger. The CUV segment was no different either, with the Tiguan's year-to-date sales surpassing only those of the Mini Countryman/Paceman. This grabbed the attention of forum member adamlink, who wonders why VW doesn't sell as well here as it does everywhere else outside the U.S. What do you think Volkswagen needs to do to increase sales on our shores?
Click here to read the entire article >>
Author: