San Diego — Strategic Vision announces results of the most recent Total Value Index™ (TVI). Volkswagen of America was again the best brand in terms of Total Value. Hyundai Motor America was the number two corporation, with Ford Motor Corporation third. Total Value is a calculation of explicit owner statements on 442 attributes and focuses on immediate and expected (long term) economic factors such as warranty, technical innovation, standard equipment, MPG, etc. and each is weighted appropriately as the data dictates. Chris Chaney, the company's Vice President and head of Automotive Research, "Our study is the most comprehensive in the industry. In addition to vehicle perceptions, we know what political party the owner claims, their personal media habits and hobbies, as well as what ethnicity they claim —all self-reported and not using any multifarious appended algorithms or systems."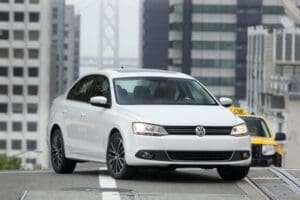 Chaney adds to the Total Value results, "An important 'time marker' in this year's study is that for the first time in over ten years American manufacturers lead the number of Total Value winners with eleven segment leaders. This is an important milestone toward the 'domestic comeback.'"
It is also important to note that four alternative fueled vehicles (Chevrolet Volt, Honda Civic Hybrid, Nissan Leaf and Lincoln MKZ Hybrid) led their respective segments. In previous years, these types of vehicles did not lead in Total Value as simply offering better fuel economy did not provide enough overall value to make these vehicles leaders. This change in leadership is a significant sign that the acceptance for more hybrid models is beginning to "turn the corner" of general approval and even desirability.
Part of this change in perceived value for vehicles like the Volt is because of the almost fanatic following of its owners. "Even though the median price of a Chevy Volt was $43,000, owners believe that for every dollar spent, they got more than did buyers of other vehicles. Customers had tremendous value appreciation for Volt's technical innovation, warranty, standard equipment and certainly fuel economy," says Alexander Edwards, President of Strategic Vision. "The Volt has been the center of attention for a number of reasons, but the customers love their vehicles and the perceived value they receive. With its leading edge and innovative powertrain, they have purchased a part of what will be the future," says Edwards. Volt not only had the highest Total Value score in the Mid-Size Car Segment, but had the highest score of any vehicle in Strategic Vision's comprehensive study. Volt owners had a median annual income of $133,000, with 37% having post doctorate degrees—perhaps making them "early adopter aficionados'," similar to those who first purchased Prius when it debuted over fifteen years ago and who were looking to make a statement.
"The way you become a Value leader in this economy is to create an exceptional product that is affordable. Price alone will not determine value. Finally, you deliver vehicles like the Jetta SportWagen and the Volkswagen CC — both segment winners — that fit into the economic structure we live in, including gas prices, fears about rising prices and the economy, and affordability that make the purchase so very desirable. You get so much for such a reasonable, affordable cost with short-term issues (like MPG, plus performance) and long-term issues (like expected dependability and even resale)," says Dr. Darrel Edwards, Founder and Executive Director of Strategic Vision.
Aside from segment leader Volt, General Motors had several additional Total Value winners with Cadillac CTS and CTS Coupe, Chevrolet Corvette Coupe and the GMC Yukon — all with strong responses in Innovation and Fuel Economy. Although American Honda Motor wasn't in the top three corporations, the Honda Civic Hybrid was the Small Car Segment Value leader, and Accord Coupe, Odyssey, Ridgeline and Acura TSX Wagon led in their respective segments. Also notable is Hyundai Motor America's continued rise on the strength of stunning design, loaded innovative features and great MPG from models like Tucson and others. Ford Motor Corporation is still improving (and best among domestics) and similarly impressive with segment leaders Lincoln MKZ Hybrid, Mustang Convertible, Flex, F150 and F250/350. As the U.S. economy continues to be perceived as unsteady or unsecure, new car buyers increasingly look at what they are getting today and the value-markers that fit a cautious view of the future. The "Total" Value equation involves a number of important cues like great MPG, Resale, Price and Reliability — but what cannot be forgotten is the importance of Innovation. Innovation must be impactful, intuitive and true to what owners desire. This is what owners respond to and what they connect with in meaningful ways, such as they did with the "all new" Mid-Size Traditional SUV segment leader Dodge Durango.
Warranty is another important component of the Value equation. Volvo is a great example of a brand providing an impressive product, but finishing off the Value equation with a great Warranty. This was especially the case with segment leaders Volvo C70 and XC60. Other luxury brands like BMW — whose Z4 tied as the Premium Convertible winner — should continue to recognize the trend of luxury buyers needing to point at Value attributes as part of their "smart-luxury" decision. It says, "I buy luxury, not just because I can, but as a smart investment." Audi gives its buyers (particularly segment leaders A8 and Q7) impressive and individualistic styling, AWD performance and handling, but with Fuel Economy that greatly exceeded expectations — making for a "smart-luxury" decision. "You will be hearing about 'smart-luxury' more and more in the near future, even if the economy takes sure-footed positive steps. 'Smart-luxury' is the new trend for those segments that are premium, but within the reach of more customers who appreciate innovation, an exceptional array of standard equipment, and present a strong value-equation. We have been tracking value for almost 20 years and the new direction is a natural extension of the past consideration," says Chaney.
With high fuel prices believed to be a fact of life now and in the near future, manufacturers will need to carefully provide the right balance of what interested shoppers are willing to pay for in a hybrid or plug-in electric. Segment leader Nissan Leaf had high marks in this balance, providing tremendous impressions of technical innovation and standard equipment. "A word of caution to manufacturers is to realize potential buyers are smarter and more empowered with information than ever before. A hybrid needs to make sense for larger sales volumes to occur. Hybrid ownership is still primarily 'statement' driven, but things are changing," says Alexander Edwards. Conversely, showing the potential strength of more conventional fuel platforms, the "non-hybrid" approach can have great Value as exemplified by MINI Cooper which for seven straight years has been the Specialty Coupe Segment winner with an absolutely impressive blend of "cool retro-like styling," reliability, innovation, durability, performance, unique interior delivery and superb fuel economy and economical ownership.
Strategic Vision continues with leading edge research through large quantitative studies that define sure positions and trends in several industries. In addition, in-depth "one-on-one" qualitative studies discover hidden leverage and provide winning platforms for communication and product directions. In comprehensive vehicle feature clinics that are responsible for actionable decisions in a number of segment studies, Strategic Vision has been able with a carefully orchestrated qualitative and quantitative mix, to discover and "dimensionalize" factors that create leverage where other common approaches have failed since typical approaches produce predictable answers. This sensitivity is especially relevant for hybrid and plug-in electric powertrains that have not been explicitly accepted by the community of buyers. We need to discover the value-equation mix that produces the winner and the leverage.
Strategic Vision used such in-depth insights to discover leverage for the cab-forward designs introduced by Ford in the 80's that were being rejected in focus groups, and exemplified by the discovered reality of the innovation of the fourth door and fold-away third row seats on the minivan that were being rejected after all ordinary methods revealed little innovation or leverage in these additions. Strategic Vision has presented Total Value Awards™ annually since 1995. Based on Strategic Vision's quantitative "ValueCentered®" NVES study, the Total Value Index was calculated from 68,088 buyers (of 325,000 total who responded during 2011) who purchased models during September 2010 to June 2011. The following list contains the number one ranked vehicles in Total Value in their segments as rated by new vehicle buyers:
Strategic Vision is a research-based consultancy with over thirty-five years of experience in understanding the consumers' and constituents' decision-making systems for a variety of Fortune 100 clients, including most automotive manufacturers. Its unique expertise is in identifying consumers' comprehensive motivational hierarchies, including the product attributes, personal benefits, value/emotions and images that drive perceptions and behaviors. J. Susan Johnson, CEO of Strategic Vision, coined the phrase "True Innovators" and we measure this construct in the detailed Total Value Index report. The ValueCentered® psychology and research methods were defined by Dr. Darrel Edwards in 1968, and enhanced by co-founders J. Susan Johnson (1972) and Sharon Shedroff (1975). For further information, contact Alexander Edwards or Christopher Chaney at (858) 576-7141 or visit www.strategicvision.com.
Author: