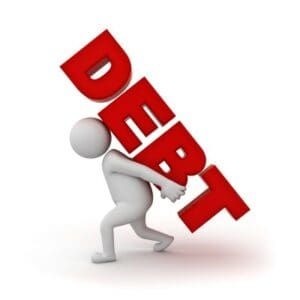 ATLANTA — Across the country, consumers remain cautious about taking on new debt. Overall consumer debt levels fell $256 billion in the third quarter versus the same period a year ago, according to new Credit Trends data released by Equifax (NYSE: EFX).  However, the 2.28 percent year-over-year decline is the slowest rate of decline since the second quarter of 2009, showing that some of the caution may be starting to lift.
U.S. consumers currently owe $11 trillion across all types of debt, with mortgage debt accounting for a little more than three-quarters of that amount. Mortgage debt fell 3.4 percent in the third quarter, compared to the same period a year ago. Non-mortgage consumer debt actually increased 0.7 percent.
The consumer debt trends look different for different parts of the country. Among the largest 25 metro areas, total consumer debt continued to decline in all but three markets versus the same time a year ago.  In Houston-Galveston-Brazoria, debt climbed 1.37 percent. In Pittsburgh, it increased 1.05 percent. And in Dallas-Fort Worth, debt grew 0.08 percent.  The markets where debt declined at the fastest rates are also some of the areas hit hardest by the housing bust and the recession. The largest declines in consumer debt were in the Las Vegas, Miami-Fort Lauderdale, Sacramento-Yolo and Phoenix-Mesa markets.
"Different parts of the country are at different stages of economic recovery, and that is reflected in how consumers feel about taking on more debt," said Trey Loughran, president of the Personal Solutions unit at Equifax. "We continue to see debt declining significantly in certain markets, including those in California, Florida, Nevada and Arizona, where the housing bust was particularly severe.  The high number of foreclosures means many consumers have reduced their debt involuntarily. Also, consumers who are current on their debt are being more disciplined in taking on new obligations and in how they manage the credit they already have."
While debt levels for mortgages fell in all top 25 markets, the declines were much more severe in Las Vegas (9.6 percent), Miami-Fort Lauderdale (8.8 percent) and Phoenix-Mesa (7.6 percent) than in Houston-Galveston-Brazoria (.1 percent) and Dallas-Fort Worth (1.4 percent). Houston and Dallas had the smallest decreases in mortgage debt among top 25 markets.
On the flip side, consumers are again taking on debt when it comes to their vehicles. Across the country, auto bank and auto finance debt rose 7.1 percent, compared with the same year ago. Again, the Houston-Galveston-Brazoria consumers seem the most confident, with 10.3 percent more auto debt than a year ago, the largest increase among the top 25 metro areas. Minneapolis-St. Paul had the second biggest increase, at 9.9 percent, while Dallas-Fort Worth came in third at 8.8 percent.
"Generally speaking, consumers are showing discipline and caution about debt coming out of the recession," said Loughran. "Even though people are taking on debt to get new automobiles, we also know they are driving their cars longer. We expect the trend of the 'disciplined consumer' to continue for some time."
Total Consumer Debt for Top 25 MSAs
Q3, 2012
Top 25 Metropolitan Statistical Areas
 Q3, 2011

(previous quarter)

Q3, 2012

(current quarter)

%

Change

1
New York-Northern New Jersey-Long Island NY-NJ-CT-PA
$972,187,508,701
$950,390,476,272
-2.24%
2
Los Angeles-Riverside-Orange County CA
$923,127,154,330
$876,777,948,629
-5.02%
3
Chicago-Gary-Kenosha IL-IN-WI
$392,986,974,643
$378,252,827,889
-3.75%
4
Washington-Baltimore DC-MD-VA-WV
$551,738,963,896
$542,886,249,132
-1.60%
5
San Francisco-Oakland-San Jose CA
$542,008,298,176
$514,977,489,737
-4.99%
6
Philadelphia-Wilmington-Atlantic City PA-NJ-DE-MD
$264,345,717,521
$260,334,975,040
-1.52%
7
Dallas-Fort Worth TX
$195,640,515,315
$195,793,941,926
0.08%
8
Boston-Worcester-Lawrence MA-NH-ME-CT
$291,881,336,095
$284,989,371,789
-2.36%
9
Houston-Galveston-Brazoria TX
$164,752,492,898
$167,013,317,770
1.37%
10
Detroit-Ann Arbor-Flint MI
$167,823,978,056
$161,806,190,287
-3.59%
11
Atlanta GA
$216,711,371,051
$208,804,249,046
-3.65%
12
Miami-Fort Lauderdale FL
$175,855,538,010
$163,918,607,735
-6.79%
13
Phoenix-Mesa AZ
$174,665,597,362
$164,331,381,275
-5.92%
14
Seattle-Tacoma-Bremerton WA
$236,059,460,797
$229,060,353,233
-2.96%
15
Minneapolis-St. Paul MN-WI
$157,792,309,716
$154,697,245,196
-1.96%
16
San Diego CA
$186,600,696,577
$178,533,592,078
-4.32%
17
Denver-Boulder-Greeley CO
$152,984,054,657
$149,338,147,626
-2.38%
18
Cleveland-Akron OH
$86,930,895,998
$85,502,702,476
-1.64%
19
Tampa-St. Petersburg-Clearwater FL
$98,748,398,631
$94,740,985,812
-4.06%
20
St. Louis MO-IL
$93,231,479,172
$92,026,532,171
-1.29%
21
Portland-Salem OR-WA
$119,846,270,373
$115,273,761,936
-3.82%
22
Pittsburgh PA
$62,759,665,221
$63,416,402,792
1.05%
23
Las Vegas NV-AZ
$82,772,429,569
$76,430,581,256
-7.66%
24
Sacramento-Yolo CA
$106,298,312,866
$99,803,116,769
-6.11%
25
Orlando FL
$81,416,604,367
$77,311,738,464
-5.04%
26
All Other Areas
$4,733,908,057,312
$4,690,970,988,076
-0.91%
Grand Totals
$11,233,074,081,310
$10,977,383,174,412
-2.28%
About Equifax
Equifax Personal Solutions empowers consumers with the confidence and control to be their financial best. Find out more about Equifax's innovative suite of credit monitoring and identity protection products at www.equifax.com. Get smart information on everything from credit to retirement, all in one place at the Equifax Finance Blog, blog.equifax.com.
Equifax is a global leader in consumer and commercial information solutions, providing businesses of all sizes and consumers with information they can trust. We organize and assimilate data on more than 500 million consumers and 81 million businesses worldwide, and use advanced analytics and proprietary technology to create and deliver customized insights that enrich both the performance of businesses and the lives of consumers.
Headquartered in Atlanta, Equifax operates or has investments in 18 countries and is a member of Standard & Poor's (S&P) 500® Index. Its common stock is traded on the New York Stock Exchange (NYSE) under the symbol EFX. For more information, please visit www.equifax.com.
SOURCE Equifax
Author: