Irvine, CA – With auto refinancing on the rise, CarFinance  released data on the Top Ten Most Frequently Refinanced vehicles and makes by its customers, since 2012.
The report reveals that below-prime car owners, focused on lowering their interest rates and/or monthly payments through refinancing, tend to own sensible and durable vehicles. Mid-size sedans with a reputation for longevity and value, such as the Nissan Altima, Honda Accord and Toyota Camry, dominate the models list, while durable domestics Chevrolet, Ford and Dodge are the top 3 brands respectively.
"As this list indicates, these are generally sensible consumers owning practical vehicles and making prudent choices to help them weather and survive an economy that has challenged so many," said CarFinance CEO Jim Landy. "This is not a list dominated by luxury vehicles – quite the opposite; and, with longer ownership cycles and the quality of even the most economical of vehicles higher than ever before, making that investment work for the long term can make a lot of sense in the current economic climate."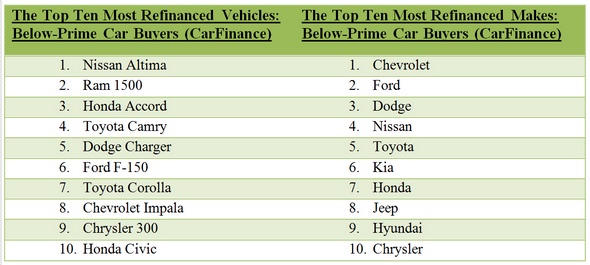 Auto refinancing, like refinancing a house, can offer an important financial opportunity for consumers — and more and more are choosing this option. According to CNW Research,2 auto loan refinancing could top 14.1% of existing contracts in 2014, a 12% percentage increase since 2012, and a 228% increase since 2009. CNW attributes the rise, in part, to the fact that many consumers who purchased during the recession were hit with high interest rates — and refinancing offers the chance to lower that rate.
This, says CarFinance.com, appears to be reflected in its customer data which shows that recession-year models (2007/2008) were among the most refinanced model years (although some consumers may have purchased the vehicles used and out of their model year); and also speaks to the greater longevity of today's vehicles. The top three model years for refinanced vehicles by below prime consumers are 2008, 2010 and 2007 respectively.
With no SUVs or luxury vehicles making the top ten list, the dominance of top-selling midsize and fuel-efficient sedans, two solid trucks, and automaker brands split almost evenly between domestic and imports, the list reveals a consumer making smart refinance choices on solid vehicles that are destined to last.
Interestingly, the list diverges significantly from CarFinance.com's recently released Top Ten Most Purchased Vehicles3 by below prime consumers, which was also full of practical vehicle choices, but included smaller, even more affordable, vehicles such as the Nissan Versa and Sentra. According to CarFinance.com experts, this is probably a reflection both of the redesigns these vehicles have had since the recession – which enable customers to migrate to them without sacrificing too much in terms of amenities – and a customer who is more budget conscious post-recession.
About CarFinance.com
CarFinance.com's (www.carfinance.com) is dedicated to helping the nation's large population of car buyers with less-than-perfect credit purchase a quality, late-model vehicle. CarFinance.com empowers car shoppers to apply for a new or used car loan, or potentially lower their existing car loan payments through refinancing, from the comfort of home. The entire process is completed virtually online directly with the lender, and personal information is kept private, safe and secure. CarFinance.com enables car shoppers to walk into the dealership with their financing in place and confident they can secure a better deal by negotiating price as if they were "cash buyers." Headquartered in Irvine, California, CarFinance.com is led by the team that built Triad Financial, one of the largest non-prime U.S. auto finance companies.
Author: