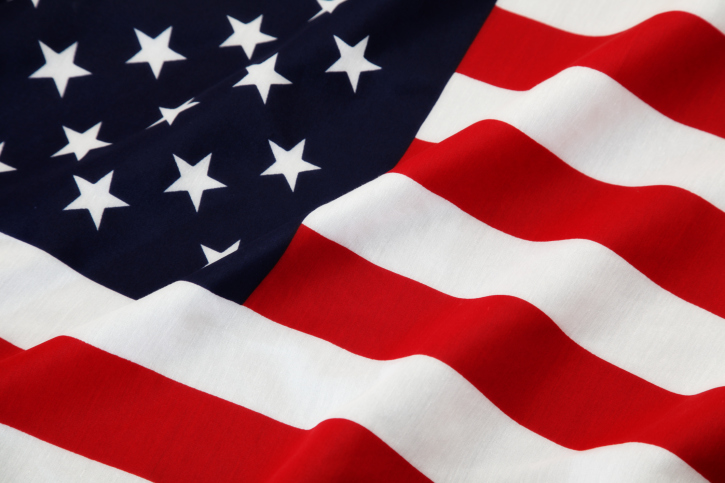 SANTA MONICA, CA – When it comes to buying cars from the U.S. automakers – Chrysler, Ford and GM – there is a certain Midwestern sensibility in the numbers. To mark the Fourth of July, TrueCar, the automotive pricing and analysis company that works to create a better car buying experience, reviewed sales data to rank the "most patriotic" states in terms of buying new cars and trucks.
Based on transaction figures, the state that purchased the highest percentage of vehicles from domestic automakers was Michigan, where 79.2 percent of new cars sold were built by the "Big Three." With Chrysler, Ford and GM all based in the Great Lakes State, Michigan's leadership is no surprise.
The next three states on the list are North Dakota (68.1%), South Dakota (65.6%) and Iowa (63.2%), followed by Wyoming (62.6%) and Montana (61.1%).
"Despite Asian and European automakers having a number of factories in the U.S., many Americans still have strong loyalty to the brands they view as 'domestic'," said Jesse Toprak, senior analyst for TrueCar. "Even as the line defining what is or isn't domestic has blurred, perception, attitudes and buying habits are more resistant to change, particularly in the heartland."
Eighteen states had more than 50% of their new vehicles purchased from domestic automakers. On the flip side, the bottom eight states had fewer than 30% of new vehicles purchased built by the Detroit Three.
Hawaiians are the least likely to purchase a traditionally defined domestic vehicle at 19.4%, followed by The District of Columbia (22.6%), California (22.9%), Connecticut (25.8%) and Massachusetts (25.8%).
States most likely to buy new domestic vehicles
Rank State Percentage
1 Michigan 79.2%
2 N. Dakota 68.1%
3 S. Dakota 65.6%
4 Iowa 63.2%
5 Wyoming 62.6%
6 Montana 61.1%
7 Nebraska 59.7%
8 Oklahoma 59.0%
9 Arkansas 55.7%
10 Indiana 54.5%
States least likely to buy new domestic vehicles
Rank State Percentage
51 Hawaii 19.4%
50 District of Columbia 22.6%
49 California 22.9%
47-T Connecticut 25.8%
47-T Massachusetts 25.8%
46 New Jersey 26.7%
45 Rhode Island 28.7%
44 Florida 29.8%
43 Maryland 30.3%
42 Washington 30.6%
About TrueCar, Inc.
TrueCar, Inc., headquartered in Santa Monica, Calif., with offices in Santa Barbara, Calif., San Francisco, Calif., and Austin, Texas, is an automotive pricing information and analysis company that creates a better buying experience for dealers and consumers. As an online publisher of unbiased new and used car transaction data, TrueCar.com provides price reports that empower dealers and consumers to agree on the parameters of a fair deal by supplying a transparent, simple understanding of what others recently paid for similarly-equipped new cars in their geographic area. TrueCar also owns ALG, the benchmark for vehicle value information to the automotive industry and has been forecasting residual values for nearly 50 years in both the U.S. and Canadian markets.
TrueCar is a data-driven company that sources, compiles, and analyzes car-buying information unlike anybody in the industry. This is why, since its founding in 2005, TrueCar dealer partners have sold more than 800,000 vehicles across the country. Its national network of more than 6,100 Certified Dealers is committed to provide no-hassle pricing for some of the country's largest membership and service organizations, including American Express, AAA, USAA and Consumer Reports that collectively represent more than one million monthly in-market customers.
Author: