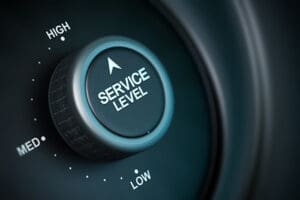 It's hard to believe that just a few years ago we had to rely on the desktop computer, and shortly before that the yellow pages and the phone book to find important business information. Today, two out of three consumers own at least one smart phone or tablet. The world around us seems to be moving at a faster pace, with technology rapidly changing. Some car dealers find themselves stuck in the middle of this transition by failing to keep up with the pace of many other service and retail businesses. Consumers want faster and easier ways to find assistance and information and are demanding higher levels of customer service so they can quickly get on with the rest of their busy lives.
Service departments constantly witness customers hurrying their way to the dealership to drop their keys and leave. Should the customer decide to wait while their vehicle is being serviced, many scramble to find a power outlet, ask for Wi-Fi connectivity, and seem to make and receive calls at a frantic pace; turning the service lounge into their virtual office.
It may not be exactly what you envisioned a few years ago, but with today's available technology and the consumer's own life demands, it's becoming impossible to escape. Consumer's now demand the latest in technology to help speed up all areas of their lives.
It is worth taking a new look at this. Are you making it difficult for your customers to access your store in the means that they desire? What are you doing to ensure a quality experience from initial point of contact to final delivery of the vehicle after being serviced?
It is becoming increasingly important to make the experience as easy as possible for all customers. Ensuring that the process is stress-free and straightforward usually means greater customer satisfaction and long-term loyalty. If you make it challenging for customers to interact with your dealership, you are making it that much easier for your competitors to lure your customers away.
While it is an important part of customer service, merely being on the ball and offering a friendly voice when a customer calls, will no longer score enough points to earn, or keep, your customer's business. But having that same friendly service and parts representative available via whatever means a customer chooses to communicate – be it phone, email, chat, or text – could mean the difference between that customer defecting to your competition, or happily singing your praises to their co-workers.
Consider training your sales and service staff to be more than customer service representatives when it comes to fielding sales and service related questions. And empower your receptionists and counter staff with information and the ability to make some simple autonomous decisions so as to satisfactorily handle questions or complaints in a timely manner. Consumers don't just wish to be able to quickly and easily communicate with you, they also expect for you to be efficient in your communications with them. There is nothing more frustrating to a customer than having to stay on hold, or to have to talk to multiple people to find out the status of their vehicle being serviced. Customers do not want to repeat themselves to multiple people. They do not want to demand a manager. They want a real person who can listen and act.
The flow of information is typically stifled by the lack of a central repository of information accessible by all employees who interact with customers. At times, this lack of information can require multiple employees taking up each other's time to gather information for a customer. This then distracts and prevents these employees from efficiently doing their jobs. Think of all the lost time that would be recovered if those questions could be answered by the first person that communicates with the customer. Customers would be happier, service advisors and techs could remain focused on their tasks at hand and the department as whole would operate more efficiently. A good software system, of some type of service CRM, can greatly help, where each customer interaction is noted down, and other employees can easily access this information when communicating with the customer.
Additionally, reaching out to customers via their preferred method of communication – email, text message, chat or phone – during various stages of their vehicle's service, can provide a proactive way to keep the customer abreast of a car's repair. This then reduces the volume of incoming calls inquiring about the status of a repair.
Smart phone apps are also popular way for consumers to interact with businesses. The ability to make service appointments and check for any specials via the dealership's website, or via text message or chat, are additional ways dealers are connecting with their customers.
Today's customers expect their dealership to be on the ball when it comes to these now prevalent methods of communication. A good illustration on how communication choices are changing is a recent report from phone service Vonage. In a New York Times article earlier this year, the company stated that consumers are leaving and retrieving less voice mail every year; preferring text messaging as a form of absent communication.
In today's ever-changing world, with people in a hurry to get things done quickly, efficiently and as inexpensively as possible, it is key to provide an inviting and efficient environment – whether online, via email, chat, phone or in person. Make it easy, functional and efficient for both the customer and your dealership employees. Customers want and expect fast and easy information along with great service, and most want it now.
If you're prepared and able to deliver on those expectations, you'll find service advisors checking in vehicles faster and taking more time to educate and upsell customers. Techs who are able to complete their work faster. Receptionists who are less inundated with calls and, most importantly, happier customers. And all of those things will help your store be more profitable.
Author: