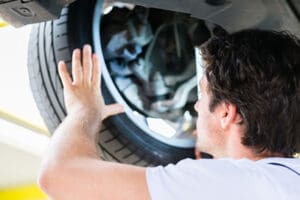 Happy New Year! For those of you headed to the NADA Convention in San Francisco January 22-25, I will be leading a fixed ops workshop again this year. This article is a sneak preview of my presentation. I'll also be covering the same material in a free online webinar February 4th from noon – 1:00 p.m. (CST). Email me at cpolston@dealer-communications.com and I'll sign you up to attend.
There are 17,300 fewer service centers in the US than existed in 2001 (from 245,000 in 2001 to 227,700 in 2014). There are 47 million more cars on the road (from 202 million in 2002 to 249 million in 2014).
(That means there are more fish in the lake and fewer fishermen with hooks in the water! More fish per fisherman.)
The average age of vehicles on the road is up 20% in the last decade to 11.7 years old.
The miles driven annually is 2.98 trillion miles.
(That means there will be more repair and maintenance opportunities as older vehicles with higher mileage are driven on US roads.)
According to NADA, new car sales generate less than 4% gross. Variable ops experts tell me for every 100 people in the front door, the average dealer sells 25 cars (a 25% closing rate). Service departments generate 70% gross on labor sales. Every car that rolls into the service drive generates revenue. (A 100% closing rate.)
(That means selling service is more profitable than selling cars-and is the only way to ensure customer retention.)
If customers see your service department as a warranty center—a place to get their car fixed for free—then what happens when the warranty expires? They disappear. Their logic goes like this: "The dealership gives me free repairs on my car while it's under warranty. My warranty has expired; therefore, there is no reason to return to the dealership. There are hundreds of places that will service my car; I'll just go to one of them."
Don't think this isn't happening…it is. Last year dealerships only got 13% of all the customer-pay work—about $30 billion. That means 87% of the business went to independent service centers. I've been tracking this trend of decreased dealership service market share for over 25 years.
So how can you stop the bleeding of service customers defecting to the competition? By selling preventive maintenance services! I think it is imperative and urgent that your dealership shift the perception away from being a warranty center to what it really is: a one-stop preventive maintenance service center dedicated to keeping vehicles trouble-free and fun to drive.
In the front end of your dealership you have the sales department; in the back end you have the service department, right? WRONG! In the front end you have the sales department; in the back end you have the SALES department! One department sells cars and the other department sells service! They both are sales organizations.
Do your fixed ops personnel see themselves first and foremost as sales people? If not, then it's time for a paradigm shift.  For you service managers, do you see yourself first and foremost as a service sales manager? If not, then it's time for you to learn this vital aspect of the business. I've got a really concise, one-page job description for "service sales managers" and "service sales advisors." If you'd like a copy, just send me an email at cpolston@dealer-communications.com and I'll send them your way.
Your advisors are salespeople. Your techs are salespeople. Your lot porters are salespeople. Your parts personnel are salespeople (both front and back counter). Your cashiers are salespeople. Service sales managers are running a sales organization and they are in charge of a sales team.
In the front end of your dealership you have the sales department; in the back end you have the service department, right? WRONG! They are both, in fact, sales departments.
So how often does your general sales manager bring his new and used car sales team together for sales training? I'm guessing at least weekly; many meet together with their team daily.
When was the last time you had a service sales meeting? I mean a meeting where you discussed sales techniques, closing techniques, and word tracks. A meeting where you set sales goals for the week. A meeting where you reward team members for achieving individual sales goals—a victory rally, so to speak.
Your customers have made a large capital investment in their vehicles. Your top priority is to help them preserve their investment. Selling preventive maintenance services to vehicle owners is a high calling, a noble mission. It is the right thing to do.
If this concept of selling is totally foreign to you or if you think that selling is somehow coercing people into doing something they don't want to do, then consider this: selling at its best is simply educating, it is raising awareness, it is building value, and most important of all, selling is helping people live better lives. Selling preventive maintenance saves vehicle owners time and money. It's a win for the customers because they get reliable, safe transportation and it's a win for the dealership because of increased customer satisfaction and retention. There's no downside to selling preventive maintenance.
Happy sales to you!
Author: