Digital Luxury Group (DLG), the first international company to create luxury industry market intelligence and use this strategic viewpoint to develop unique digital marketing strategies for luxury brands, in partnership with Luxury Society, the world's largest community of luxury executives, unveil for the first time, a ranking and analysis of the most-searched luxury brands in Brazil.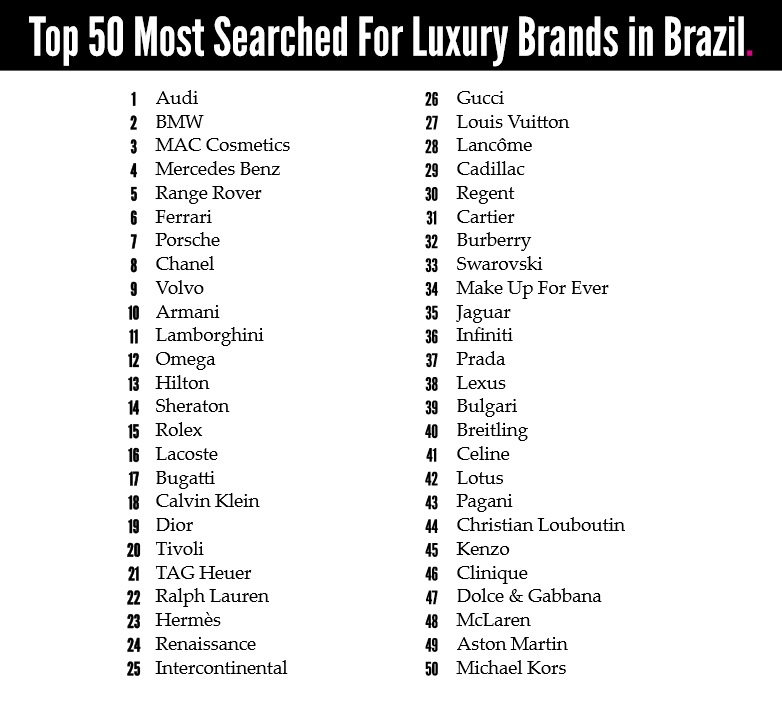 The report is part of the World Luxury Index™, an international ranking and analysis of the most sought-after brands within the luxury industry. This study covers 300+ luxury brands within six key segments (fashion, beauty, jewelry, cars, watches, and hospitality) in ten key luxury markets and provides insights on the interest coming from luxury consumers in Brazil. The unbiased information is derived from 20+ million consumer online searches originating from Brazil.
Among the key trends identified and shaping the Brazilian luxury market in 2012
1.       Interest for luxury increased by 24% in 2012, led by Cars
Estimated at USD 12 billion (MCF Consultoria and GfK, 2011) the luxury market in Brazil is marked by a +24% surge in consumer interest for luxury brands and products across all segments. Cars, the largest segment gathering nearly half of total searches, met the greatest growth (+68%) followed by Beauty (+49%) and Watches (+34%). Jewelry (+18%) and Fashion (+9%) along with Hotels (stabilized at -1%) performed below the Brazilian average growth.
"While retail sales forecast are showing single digit growth, 2012 is marked by the pace at which Brazilian consumers massively turned to online channels to stay on top of luxury trends. Effectively harnessing such an online frenzy represents a key differentiating factor and growth accelerator for global luxury brands in Brazil" states Florent Bondoux, Head of Strategy & Intelligence, Digital Luxury Group.
2.       Love for appearance boosts Beauty, growing by 49%
While per-capita spending for beauty products equals the one in the USA (USD 260), Perfumes and Makeup categories are driving the Beauty segment, growing by 49%. MAC Cosmetics leads the Beauty segment with 38% search market share. Besides Makeup and Skin Care sub-categories, MAC has been present in the market since 2002 and now operates 5 stores across Brazil. Within Fragrances, Armani is the most sought-after brand, followed by Chanel and Dior.
3.       Sportive look is most preferred style for Cars and Watches
Out of the top 50 most-searched car models: 18 are Sports cars – topped by Buggati Veyron and Lamborghini Aventador – and 17 are SUVs, headed by Range Rover Evoque, 2nd most popular car model as well as the most armoured in 2012. Most popular watch models reveal Brazilians preferences for Men's, Sports and Chronograph timepieces, a segment dominated by TAG Heuer, Rolex and Omega. Historical relationship notably through Formula 1 and pilot legend Ayrton Senna explains the special relationship TAG Heuer has with Brazilian consumers. Its Carrera model is the 1st luxury watch model in Brazil.
4.       Miami and New York are Top travel destinations; Hilton most searched for luxury hotel chain
With import taxes among the highest in the world, it is estimated that 80% of luxury products acquired by Brazilians are purchased abroad. Preferred locations when researching luxury hotels remain the Americas – Miami and New York at the top – followed by Europe with Paris and Lisbon. Hilton is the most searched for Hotel when planning trips to Paris and New York, while Loews is preferred in Miami and Tivoli in Lisbon.
CEO of Digital Luxury Group, David Sadigh explains, "We estimate that nearly 1 million of Brazilian tourists are traveling and shopping in New York every year. They are brand conscious, impulsive and much bigger spenders than the average international tourist visiting the Big Apple. A strong presence in Brazil will be key for luxury and fashion brands willing to take advantage of this international clientele".
A free version of the report is available for download at: http://dlgr.com/brazilrank.
About Digital Luxury Group
With offices in New York, Geneva, and Shanghai, Digital Luxury Group (DLG) is the first international company dedicated exclusively to luxury industry market intelligence as well as the design and implementation of digital communication strategies for luxury brands.  www.digital-luxury.com
About Luxury Society
Luxury Society is the world's most influential online community of top luxury executives. Based in Paris, with members in more than 150 countries, Luxury Society informs and connects CEOs, managers, journalists, consultants, designers and analysts from across the luxury industry.  www.luxurysociety.com
Author: