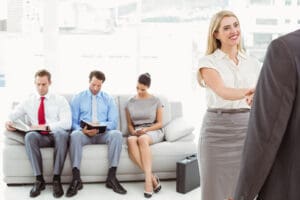 Great leadership has always been vital for success. Without George Washington, there may have never been an American victory in the Revolutionary War. Without Dr. Martin Luther King Jr., there may still be segregated schools in our country. Furthermore, without Harvey Levin (the founder of TMZ), we'd never be able to stick our noses into the personal lives of celebrities!
Every successful business and accomplishment relies on leadership. Whether it comes from a single person or a group of people, having a clear path to follow allows a company's employees to be inspired and thrive in a positive environment. However, contrary to paying taxes, leadership doesn't last forever.
Leadership comes and goes; that's inevitable. If you're looking to replace a management role or simply searching for someone to help lead your team and revitalize your business at your dealership, it's imperative to hire the right person. Hiring a true leader can also improve the teamwork amongst your employees, which is an essential tool for battling turnover.
Nevertheless, this whole process doesn't just happen overnight; it has to start somewhere. The first key and step towards actually finding a leader to support a team of employees that'll stick around for the long run is the timing. Make sure it's the right time to hire.
Think about the employers you already have first—can anyone fill your leadership position? If not, then think about the people you are interviewing—is this the right time for them to step in and take over a management position? If both parties are on the same track, then you're ready to hire.
The second key to hiring a leader is deciding whether he or she has the proper background. Carefully review each candidate's resume to see where he or she is coming from, what they have accomplished and what kind of career path they've chosen. It only makes sense to hire someone who understands your industry and has proven that he or she has succeeded in similar environments. Otherwise you might as well be hiring aimlessly, picking candidates based solely on looks or personality—and people wonder why they have turnover issues!
Finding the right qualities in a candidate is the third key to finding a sound leader. This may seem like a no brainer, but one of the most important traits of any leader is personality. Think about what kind of qualities you're looking for in this leadership position. There are dozens of traits that can define great leadership, however it's up to you to decide what kind of leader you want working for your dealership. Think about which personality traits will be needed the most to make your business flourish, and help the other employees to thrive as well.
As for the fourth key, a balance between work and life outside the office is essential for a leader and must be taken into consideration during the interview process. Does the candidate believe in a reasonable work/life balance? Sure, it's nice to employ people who work their tails off, but at the end of the day it's only a job. If your employee isn't happy at home, how do you expect them to succeed in the office? Those who have a steady life, both inside and outside the office, usually perform well at work.
The final key to hiring a leader is vision—without a plan or goal in mind, it's hard to lead others. Don't forget to ask what your candidate's vision for the company is, whether it's for your own dealership or one from their former employer. Understanding your candidate's vision can also help you gain a better sense of what may lie ahead for your company, as well as what kind of leader he or she may be.
These are only five fundamental things to consider while hiring for a leadership position at your auto dealership. There may be several other things that may affect a person's way of managing a team. However, if he or she meets the qualifications formally mentioned, then you can assure yourself that this is likely someone who can help you manage a winning team less prone to turnover…and possibly fun out-of-office events like golf outings or BBQ parties, you never know.
As we all know, sales turnover is a serious problem for many companies, not to mention at most dealerships, yet it's not impossible to combat. One of the best solutions for tackling turnover is fundamental teamwork. There are three ways to build a team of employees that will work hard together and enjoy working at your company, all at once—and therefore, help lower turnover.
Choosing the right candidates is the initial step for building a true team. Personality and work ethic are both essential elements for teamwork, so before you can make a team grind it out together, you have to make sure you're employing the best-fit people for the job. A simple way to do this is by conducting phone screens and using scorecards during interviews with candidates.
Creating the perfect environment to work in is the following step. It's hard to build this kind of environment for effective teams if negative energy or a boring atmosphere surrounds everyone. No one wants to work in an isolated cubicle all day. If you've done so yourself, or have seen the movie Office Space, you know it's depressing. If you expect your employees to come to work each day with a positive mindset and high energy, you had better be creating an enjoyable work culture.
Every business is different, so there are countless ways to create the ideal culture. A few ways to set the best stage for your employees to work in are by implementing a flexible work schedule, casual dress code, or by starting company rituals that are unique to you and your employees.
Team bonding is the final step. If you've ever been part of a winning team before, you'll know how important chemistry is between teammates. If you want to succeed together, you have to trust one another. Make sure you spend time outside the office with your team. Going out for dinner, bowling or attending a sports game are all fun ways to help get your team to know one another and bond. Do this and your employees are bound to work better together.
So what's the main point here? It takes real leaders to lead true teams on the road to success and vice versa. We've seen it throughout our own history through great leaders like Washington, MLK and many more. Their astounding work could have never been accomplished if it wasn't for the people around them and their fantastic teamwork.
The same goes for those in the auto industry looking for dealership solutions. Turnover is a tough obstacle to overcome if you're constantly losing employees. The best way to combat this problem is by hiring the right people who work well together and are able to succeed at your company for the long haul. Give this a try at your dealership and your next employee could end up being your long-time friend at work someday.
Author: