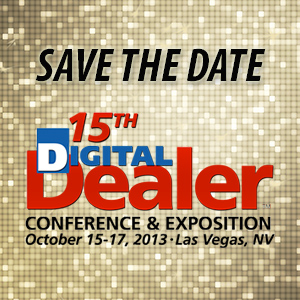 As valuable as the three days of learning and networking at the 14th Digital Dealer Conference & Exposition are to attendees, the real value to dealers and managers is realized in the follow-up period, where the ideas, strategies and best practices they learned at the event are implemented.
"Digital Dealer 14 was excellent. As an industry we struggle with embracing the latest technology. This conference drove home what must be done to keep and grow market share in the future," shared Dale Childress, Social Media Manager, Golden Circle Auto Group, Jackson, TN.
The dealers and managers in attendance took home many ideas to grow market share. From a post-show survey, the average number of actionable ideas attendees plan to implement was 8.3 with some citing up to 50. In addition, each attendee made on average 6.6 new peer connections, strengthening their business networks and providing a means to share ideas and solve problems together in the future.
With over 100 sessions, workshops and case studies, a full floor of leading technology vendors and peers from across the country to learn from, attendees cited hundreds of different ideas that they will put in action, all specific to their unique situations. But here is a glimpse at the top ten:
A/B testing
Creating more unique content
BDC best practices
Improving website landing pages
Better use of video
Further use of Google analytics and Google +
Enhancing social media usage to create more customer engagement
Creating mobile responsive websites
SEO strategies
Using customer data to make better decisions
What new ideas do you need to implement? You can review many of the presentations decks from the 14th Digital Dealer Conference & Exposition at http://www.digitaldealerconference.com/slides/
And save the date for the 15th Digital Dealer Conference & Exposition, October 15-17, Las Vegas, NV when the industry's top thought leaders will gather once again to share how to utilize countless aspects of the Internet and technology to sell and service more vehicles more profitably.
Author: