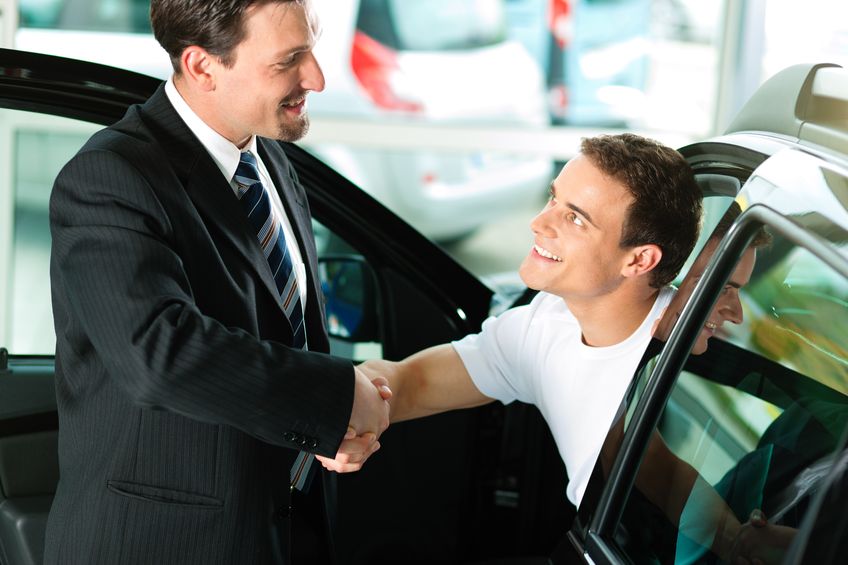 Having been a Sales and Management Consultant in the auto business now for nearly three decades, I have had the great privilege of meeting some of the best in our business. One thing I have found is that those who really excel and achieve great success are usually well organized and follow a structured approach to selling. They don't depend upon their ability to talk as much as they do their willingness to listen. Successful Salespeople who have a long list of loyal Customers, usually got there by listening to and satisfying their Customers day in and day out.
With that in mind, I want to share with the readers four rules that I have found to be crucial to success in this business and especially in today's market. Hopefully, some of you will take them to heart. If so, I guarantee they will make a significant difference in the success and Customer satisfaction you experience as a car Salesperson or Manager. Like a good football player, knowing what your plays will be ahead of time, can make their execution a lot easier.
Rule # 1 – Never ask a question that could result in a lie
When I first started selling cars in 1979, it was not uncommon to hear a seasoned Salesperson make the familiar statement: "All buyers are liars." It was something that everyone seemed to take for granted and was usually followed by this question: "When are they liars?" and the familiar response: "Whenever their lips are moving."
That harsh bit of car lot humor has managed to survive even until today. Like it or not, things have not changed that much when it comes to the perception that some car Salespeople have of the Customer.
Though I didn't really see things that way myself, it was undeniable that some Customers did indeed lie when they were going through the initial qualification process. It wasn't long before I began to wonder why that was. What I have learned over the years set my career in a direction that eventually formed what I do today as a professional consultant in this industry. Here is what I discovered: Customers lie because the types of questions we ask them cause them to do so.
The way to eliminate this behavior is quite simple: Stop asking those kinds of questions.
Avoid questions about budget or payment information. These will often cause the Customer to respond with a lie and lead you down a path that does not truly represent their spending expectations. In both cases, they will usually give you a lesser number hoping that may help them get a better deal. When this happens, you may waste a lot of time showing them vehicles that are not really what they are looking for.
Don't ask questions like, "Are you trading your car in today?" "How much do you think your trade is worth?" or "Who else will be involved in the buying decision?" These only create fear and add to the Customers already defensive posture, but worse, they create lies. You may think these are innocent questions that can hurry the process along, but the Customer will perceive them as threatening and may withdraw, become uncooperative and give you answers that will lead you in a bad direction.
Rule # 2 – Never ask a question which could produce an answer you don't want to hear
Certain questions are guaranteed to make you sorry that you asked them. "What is your time frame for making a purchase?" is one of those for sure. If you ask that question nearly every Customer will answer with, "Not today, maybe in a week or so!" But what did you expect? That question gives the Customer the perception that you are only interested in them if they buy a car today.
Never forget that one of your main goals during the sales process is to lower the Customers defensive posture, not raise it. When attacked, it is a common reaction to defend oneself, and when Customers do that, they typically respond with impulsive statements. These are the statements that we do not want to hear.
Anytime you find yourself defending your statements or responding to a Customers objection, prior to the negotiations, it is because you have asked a question and received a bad response. This kind of response puts you on the defensive and creates an awkward environment for the Customer.
So, why do we ask these kinds of questions? In most cases, it's because that's what we were taught to do. These questions are neither logical nor reasonable, but that's the way it has always been done so that's the way we do it. At times like this, Einstein's definition of insanity seems appropriate. "Insanity is doing the same things over and over yet expecting different results."
No manager in his right mind will accept an insanity plea in such a case when explaining why you weren't able to close the Customer.
Rule # 3 – Never ask a question or make a statement that could make the Customer more defensive
As we have already discovered, all of these questions will do that to some degree. But nothing is more certain to have that result than the trial closes that so many Salespeople use to push the Customer along before they are ready to buy. As innocent as some of them may seem to you, to the Customer, they are an offense. Liken this to a football game; when the offense takes over, the defense blocks its way.
"Wouldn't this car look great in your driveway?" That may sound like an easy going way to get a big 'yes' from the Customer, but it is not. It is presumptuous and self serving and bound to make the Customer more defensive. "Park the car in the sold line" is another trial close that presumes they have made a decision when they very well may not have.
Though you may have made an excellent presentation up to this point, these questions can cause the Customer to put the process in reverse and start backing away from the pressure they feel. This can undo everything you have accomplished thus far and reaffirm their initial fears, again causing them to withdraw and retreat.
And of course, let's not forget, "If we can come to terms on the price and payment are you ready to buy the car today?" What a horrible question to ask someone. After working so hard during the sales process to know ask them to buy the car out on the lot while standing next to the car is ridiculous. There are Dealerships that should have a Gold Record on their wall with that song on it because they have sung it so many times.
Does that mean you have never closed a deal using any of these? Of course you have! But I assure you would have closed many more and probably gained more repeat business if you had not used trial closes.
Rule # 4 – Always try to catch the Customer pleasantly off guard
I believe that the best tool any Salesperson can have in their bag is the ability to be Unique, Inspiring, and Different from the competition. For that reason, I despise the use of trial closes, pressure statements and an environment that offers the Customer the chance to lie. Nearly everyone uses these techniques and the Customers know they will and even expect them to. That's part of the reason they are so defensive in the first place.
By being different from other Salespeople, you catch the Customer pleasantly off guard. That surprise alone can sometimes be the key to earning their business. When you carry yourself in a non-threatening, non-presumptive manner, they will perceive that you are different and will relax their defenses.
Avoiding these types of questions and comments, can help you do what is best for your Customer and yourself as well. By focusing your efforts on relaxing their defensive mechanisms rather than continuously pressing for the sale they will open themselves up to your presentation and develop a sense of trust.
No matter what you have been taught about selling in the past, learning to adapt fresh and proven methods can re-invigorate your career and help you build trust and confidence in your Customers. This is the way true professionals build long term success and it is the best way to sell. No pressure or manipulation; just pure Customer Care.
Today's informed Customers do things differently and we must do the same if we are to earn their business. A Salesperson's game plan should be simple and consistent, which is to, sell them on your product, yourself, and your Dealership. When you can do that you will overcome the defensiveness that can clearly be a problem for most Customers.
Like a good offensive lineman, when you can remove the defenses that are blocking the way, you have a much better chance of scoring the touchdown.
Author: