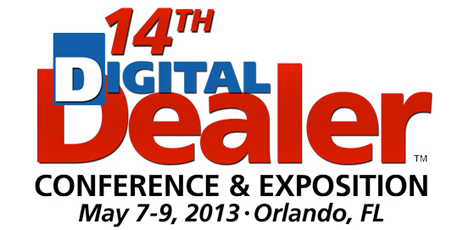 100+ sessions, workshops and case studies, 100+ solutions providers, 3 thought-provoking keynotes and nearly 1,000 dealers and managers power the industry's premier learning and networking event to a double digit attendance increase.
The 14th Digital Dealer Conference & Exposition gathered more than 2,000 dealers, managers, OEM, exhibitors, press representatives and allied industry guests from across the automotive sector. In comparison to DD12 Orlando, the number of automotive professionals that visited the Rosen Shingle Creek to attend the 14th Digital Dealer represented a 27% increase in dealership personnel and a 16% increase in overall attendance. But more importantly, the event served as another edition of the meeting of the minds to explore, discuss and debate all things digital, and affirmed the event as the definitive industry thought center dedicated to using the Internet and technology to sell and service more vehicles more profitably.
"When I started Digital Dealer, I didn't dream it would reach this size, scope and influence," stated Michael Roscoe, CEO of Dealer Communications. "While it has always been completely committed to helping dealers and managers improve their businesses, it has evolved to become the industry platform focused on how to use the latest technology solutions to maximize business potential in today's ever changing digital landscape. And not just through our 100+ educational sessions and Learning Labs, attendees also can learn from leading vendors, OEM partners and directly from each other."
The industry's ultimate digital strategy conference kicked off with the Digital Dealer Peer Networking Roundtables sponsored by Dominion Dealer Solutions. This unique event connected dealers and managers in similar roles from dealerships across the country. The idea exchange and opportunity to hear how other dealers and managers would approach similar problems was aptly described by attendees as 'priceless'.
The action continued to sessions segmented into nine distinct tracks. The further classification of educational categories and additional offerings in: digital marketing, social media, CRM & telephony, reputation & loyalty, data & analytics, new sales, pre-owned sales, management, and fixed operations allowed attendees to drill down on topics of interest and customize their learning experiences. Within each track experts with proven records of success working in and for dealerships shared their knowledge on how to use new methods to engage and convert more customers. The number, depth and breadth of education can only be experienced at Digital Dealer, helping attendees develop solutions to their most pressing issues.
"Within our dealership we debate the best approach to digital marketing and how to reach more customers. The topics of these debates are discussed in depth at Digital Dealer. Getting away from the demands of running your business for a few days allows you to focus on what really needs improving and the right approach to make positive changes. And at Digital Dealer, I always find the ideas I need to implement at least three new initiatives when I get back home," shared Bryan Blair, General Sales Manager of the RountreeMoore Auto Group.
The educational sessions were highlighted by keynote addresses from influential social media gurus Jay Baer and Mark Schaefer, and the definitive voice on data driven digital marketing, Google Digital Marketing Evangelist Avinash Kaushik. Many of the tweets sent by attendees during the event heralded the keynotes as 'powerful', 'inspirational', and the 'best keynotes' they had ever seen. The keynote speakers helped identify emerging trends in digital marketing and data analytics, how to create more brand utility to your customer base, and how to fully harness the power of social media. The impact of both the breakout sessions and keynotes are still reverberating from attendees in chat rooms, blogs, Facebook pages, e-mails and tweets across the world.
Within the Digital Dealer Exhibit Hall more than 100 leading technology providers showcased a wide variety of solutions, and met directly with dealership partners to discuss new programs and implementations. In a new pilot format of Digital Dealer Innovation Hours, attendees were able to see 25 live demonstrations of new products, services and technologies in Innovation Theater. Set amongst exhibits, 11 Digital Dealer Learning Lab tables offered dealers and managers direct coaching from leading experts in subjects such as Google Analytics, SEO, website conversion and social media strategies.
"Digital Dealer now stands tall as Netsertive's top lead generation source in 2013," stated Tim McLain, Sr. Marketing Manager for Netsertive. "The Digital Dealer team always puts on an amazing event that gathers thought leaders and top vendors to educate and offer product information to an audience looking for the best solutions in the industry. Thank you for setting every vendor up for success at every Digital Dealer event!"
The event concluded with two case studies led by CityTwist and OnLine Drive, offering dealers and managers ideas on how to implement new initiatives they learned about while attending the 14th Digital Dealer.
The keynotes everyone will be talking about, the industry's largest collection of educational offerings, thought leaders, and technology specific vendors will return to the premier learning and networking event, the 15th Digital Dealer Conference & Exposition, October 15-17 at the Mirage Hotel and Casino, Las Vegas, NV.
Author: