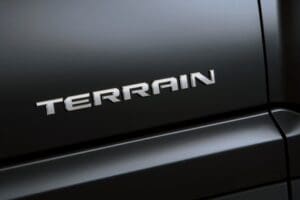 DETROIT – For the third consecutive time since the GMC Terrain debuted in 2009, the smaller SUV is on track to end the year with more than half its sales coming from brands outside General Motors. And more than one in five is coming from import car and truck brands including Toyota, Honda, and Nissan.
The GMC Acadia also continues to attract new customers to the brand. Like Terrain, Acadia is on track to count more than half of its owners from outside GM in 2011, continuing a four-year trend for the full-size crossover.
Acadia has the lowest cost of ownership in its segment, according to ALG, which tracks residual values, or how much a vehicle is expected to be worth after a certain number of years. Through November, total Acadia sales were up 18.6 percent year to date.
New in the 2012 GMC Terrain is the industry's first crash avoidance system that exclusively uses a single camera to help drivers avoid front-end collisions. This technology is coupled with lane-departure warning for $295. Starting in Spring 2012, GMC's new Intellilink infotainment system will be an option. Terrain sales were up 47.3 percent through November.
"Acadia and Terrain are industry leaders in both design and technology," said Brian Sweeney, U.S. vice president of Buick and GMC Sales and Service. "Consumers are taking notice, as evidenced by each model's sales increases through the first 11 months of 2011."
After being redesigned for the 2011 model year, Sierra HD pickups are also ending their first full calendar year on a high note. Total sales were up 30.7 percent in November, and retail sales of ¾-ton extended-cab models were up 74.2 percent.
Retail sales of all Sierra pickups – ½ ton, ¾ ton and one ton – were up a combined 22.4 percent in November.
Like GMC's full-size pickups, the Yukon and Yukon XL full-size luxury SUVs had a strong month, with retail sales up 25.7 percent and 27.7 percent, respectively, year over year.
All of these vehicles helped GMC increase its retail sales by 19.1 percent – the 26th consecutive month of retail sales gains. Total sales for November were up 6.8 percent and total sales for the first 11 months of 2011 are up 21.6 percent compared with the same period last year.
About GMC
GMC has manufactured trucks since 1902, and is one of the industry's healthiest brands. Innovation and engineering excellence is built into all GMC vehicles and the brand is evolving to offer more fuel-efficient trucks and crossovers, including the Terrain smaller SUV and Acadia crossover.  GMC is the only manufacturer to offer three full-size hybrid trucks with the Yukon, Yukon Denali SUVs and the Sierra pickup. The new Sierra Heavy Duty pickups are the most capable and powerful trucks in the market.  Details on all GMC models are available at www.gmc.com, on Twitter at @thisisgmc or at http://www.facebook.com/gmc.
Author: