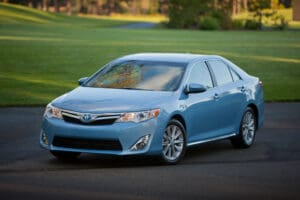 JEFFERSON CITY, Tenn. — The 25 dealerships that comprise the Tennessee Toyota Dealers will once again serve as the title sponsor of the 5th Annual Toyota East vs. West Tennessee All-Star Classic.  Scheduled for this Saturday, December 10, the annual showcase of blue-chip football talent will be held at Carson-Newman College in Jefferson City.
The game kicks off at 1 p.m. EST and features approximately 100 of Tennessee's top high school football seniors, divided into East and West squads.  The game is organized by the Tennessee Athletic Coaches Association (TACA), who selects the players and coaches for the all-star battle. The webcast of the game is available online at www.ihigh.com/tennesseesportsnet/. The live radio broadcast of the game will be provided by Knoxville Fulton High School's WKCS-FM 97.1, with the radio feed available at www.wkcsradio.org.
The Tennessee Toyota Dealers have served as the title sponsor of this contest since the inaugural game in 2007. As part of this year's sponsorship, Toyota's dealers will help transport, feed and accommodate the student-athletes during a busy four-day schedule. The dealers will also play a role in promoting the game and its players in their respective local communities.
"Our Tennessee Toyota Dealers and the TACA have done a terrific job of maintaining the state's only all-star football game," said Wylon Harper, Vehicle Operations Manager at Toyota Motor Sales, U.S.A., Inc.'s Cincinnati sales offices. "Many prep players aspire to make the teams' rosters in order to showcase their skills in front of family, friends and college scouts. This game has become an annual tradition in the Volunteer state."
About Toyota
Toyota Motor Sales (TMS), U.S.A., Inc. is the marketing, sales, distribution and customer service arm of Toyota, Lexus and Scion.  Established in 1957, TMS markets products and services through a network of nearly 1,500 Toyota, Lexus and Scion dealers which sold more than 1.76 million vehicles in 2010. Toyota directly employs nearly 30,000 people in the U.S. and its investment here is currently valued at more than $18 billion. For more information about Toyota, visit www.toyota.com, www.lexus.com, www.scion.com or www.toyotanewsroom.com.
Author: