Auto dealers would be wise to take their own advice and shop around when looking for a vehicle-wash system, with touchless technology providing many benefits over fiction-style washes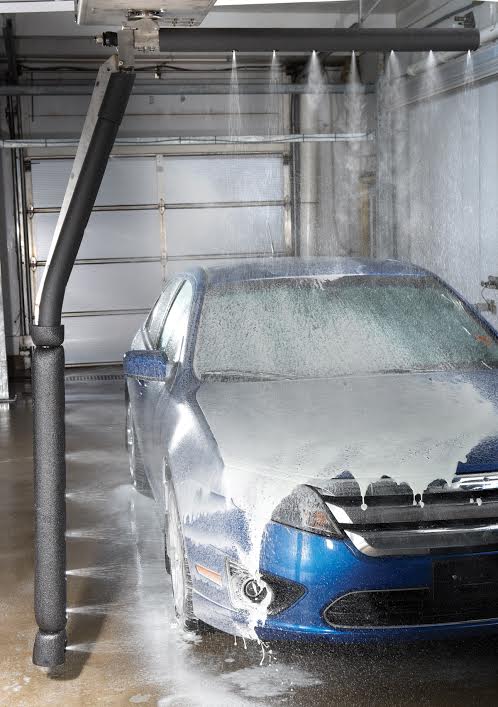 Nirvana for the auto dealer is the customer who enters the showroom, points at a vehicle and announces, "I'll take that one" with no negotiating, no test drive and no questions asked. While this scenario may actually play out on exceedingly rare occasions, everyone knows that the vehicle-buying experience is really a precise process that involves large amounts of research, time and negotiation, all crucial components in the search for that oftentimes elusive, but extremely satisfying, "this is the one" feeling.
In fact, car dealers themselves often encourage their prospective customers to shop around, to go out and visit different dealers or test drive different models, knowing that the highest level of customer satisfaction will only be achieved if the customer is convinced that he or she did everything in their power to find the right vehicle. Isn't it ironic, then, that auto dealers who offer service and maintenance facilities at their sites can be quick to settle for one specific type of car-wash technology: a friction-style system that relies on 1960's-era hydraulics to operate its many wash, polish and dry components.
While friction washes may be the default technology of choice for the auto dealer, in reality there is a variety of vehicle-wash options available on the market. So, in an industry that extols the virtues of "shopping around," it behooves the auto dealer to do just that when the decision has been made to install an on-site car wash.
The Right Touch
While most auto dealers have staked their vehicle-wash lot on friction systems that feature brushes or soft-cloth strips that actually contact the vehicle in order to remove any dirt or grime and apply all polishes and waxes, a better option may be the touchless in-bay automatic wash system. In fact, the results of a number of recent industry surveys indicate that drivers actually prefer touchless vehicle washes, which they say provide a more efficient high-quality wash than friction-style systems without the worry that vehicle damage caused by the system's brushes or other moving parts may occur during the wash process.
Rather than brushes that actually contact the vehicle, touchless systems feature an overhead bridge design that moves around the vehicle's exterior with high-pressure nozzles applying wash chemicals, polishes and rinse water in order to get the vehicle clean. Today's touchless wash systems offer a simple design that results in easy operation and lower maintenance and equipment costs for the operator. The technology of the touchless in-bay automatic wash system has also advanced to the point that sensors located in the wash components can "read" how the vehicle has been positioned in the wash and then make adjustments to safely move around it so that washing efficiency and effectiveness are optimized.
The open-bay design of most touchless wash systems also eliminates the driver's concern of positioning the vehicle in the tracks of a treadle, which can cause consternation and stress during the loading process. Additionally, the "virtual treadle" design of touchless in-bay systems can be beneficial for auto dealers who offer a wide array of vehicle types and sizes to the buying public—from the smallest sub-compact to the largest SUV, including dually trucks with their wider four-wheel rear axles. This broad array of vehicle types demands a wash system that is flexible enough to safely and efficiently clean all varieties of standard production vehicles.
Many next-generation touchless wash systems are now being powered through electronic variable frequency drives (VFD). This removes the need for hydraulic systems that can be prone to leaks and breakdowns, leading to higher maintenance costs and revenue-sapping downtime. VFDs also enable the wash operator to optimize the use of electricity since only the proper amount of power is required to operate the machinery. Also, as water usage and disposal costs continue to rise, touchless wash systems have been designed to minimize water consumption and can need as little as 21 gallons of water per wash, with much of that being able to be reclaimed and reused, if desired.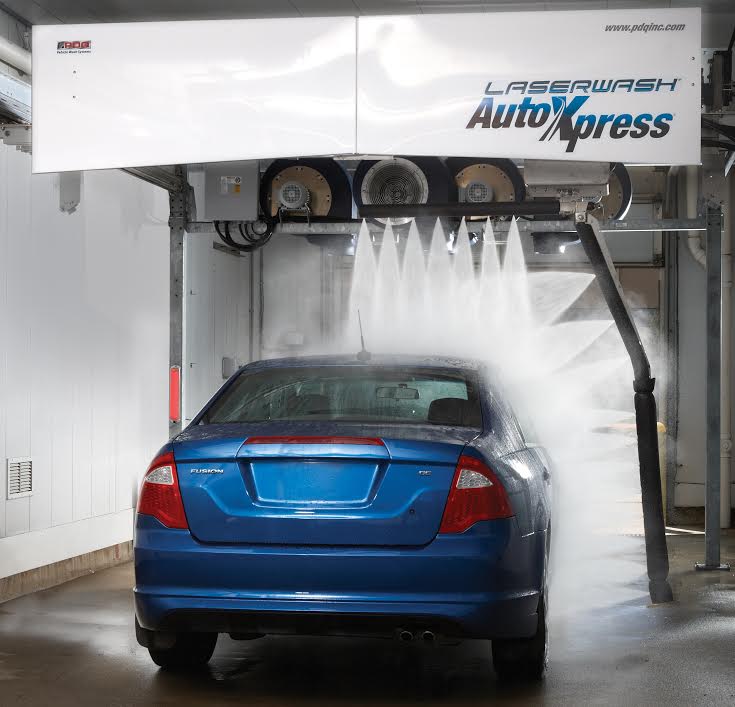 Touchless wash systems also benefit from recent advances in wash-control systems technology. These systems use a Web browser that can be accessed via personal computer, tablet or smartphone without the need for any special software, which gives the operator real-time access to all key operating functions of a site's wash equipment. Additionally, if operators are physically away from their facility they can remotely configure wash packages, program machine functions and monitor sales or wash activity at the touch of a button over the Internet.
Since 1987, PDQ Manufacturing, Inc., De Pere, WI, has been an industry leader and innovator in the design and development of touchiness in-bay automatic vehicle-wash systems. Recognizing the unique concerns that auto dealers have when offering vehicle-wash services at their sites, in 2012, PDQ debuted the LaserWash® AutoXpress® touchless in-bay automatic wash system specifically designed for the automotive-dealer market.
The LaserWash AutoXpress can wash up to 23 vehicles an hour, even the largest SUVs and duallys, and features a number of industry-best features, including the PDQ Virtual Treadle®, corrosion-resistant bridge and trolley, the ability to deliver 1,200 psi of water pressure for the removal of the most stubborn dirt and grime, the Smart360™ arch-control system that rotates 360 degrees while simultaneously moving around the vehicle, slip-free belt drive, and built-in Internet interface for updating, reporting and monitoring wash operations when off-site.
Conclusion
For an industry that advises its customers to do their homework before making a purchasing decision, auto dealers can sometimes be lax when choosing which vehicle-wash technology to install at their sites. The days of "that's the way we've always done it" are long gone, so those auto dealers who have continued to turn to friction-style washes for their operations need to realize that there are more options available to them. While friction washes may have their benefits, the advances in touchless vehicle-wash technology should not be overlooked. Today's touchless washes offer the performance, safety, cost-consciousness and reliability that are necessary—and, most importantly, they get cars clean without damaging them. So take your own advice, do the research and survey the options, realizing that a touchless vehicle-wash system may turn out to be the best choice for your operation.
About the Author:
Tony Smith is the Vice President of Sales, Auto Dealer Sector for PDQ Manufacturing, Inc., De Pere, WI. PDQ Manufacturing is recognized as the technological leader in vehicle wash systems, providing superior quality, outstanding support and products that contribute to its customers' profitability. Brands include WashTools Conveyorized Tunnel Systems, LaserWash® In-Bay Automatics, Tandem® RiteTouch Vehicle Wash Systems, ProTouch® ICON Friction Vehicle Wash Systems, Access® Customer Management Systems and MaxAir™ Dryers. Products are sold and supported worldwide through an extensive distribution network. For more information, visit www.pdqinc.com or call (800) 227-3373. Mr. Smith can be reached directly at tony.smith@pdqinc.com.
Author: