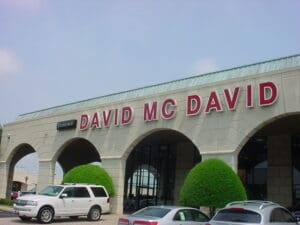 PLANO, Texas — David McDavid Lincoln of Plano is bringing Lincoln's Drive Smart for a Cause program to the Plano community in an effort to raise up to $6,000 for Make-A-Wish North Texas. For every person who takes the wheel and test-drives a New Lincoln vehicle on Wednesday, December 12, Lincoln will donate $20 to Make-A-Wish®. Additionally, David McDavid Lincoln of Plano will match each donation.
This exciting test-drive fundraising event will generate much-needed money to grant the wishes of children battling life-threatening medical conditions in the local community.
The event, which will be held from 9:00 am to 6:00 pm, will feature the many vehicles from Lincoln's luxurious line-up. In addition to raising much-needed funds, this event gives participants the chance to experience Lincoln's fast-evolving luxury design and safety technologies, while also allowing David McDavid Lincoln the opportunity to highlight Lincoln's continued commitment to exceptional customer experience and service.
"It's important to all of us to make sure programs like this receive the funding they need to continue the great work they do all year, and we're excited to raise money for such a worthy cause," said Will Palasota, General Manager at David McDavid Lincoln of Plano.
Make-A-Wish North Texas grants the wishes of children with life-threatening medical conditions to enrich the human experience with hope, strength and joy. Their goal is to provide children with the hope for better times, the strength for the tough times and the joy to experience the present. Doctors provide the medicine and Make-A-Wish supplies the magic. They strive to create miracles in the lives of some very extraordinary children.
To participate in this exciting event and get behind the wheel of your favorite Lincoln vehicle, please visit David McDavid Lincoln of Plano at 3333 W. Plano Parkway in Plano TX, 75075, between 9:00 am and 6:00 pm on Wednesday, December 12, 2012.
Participants must be 18 or older and have a valid Texas driver's license. There is a limit of one test-drive per household. Test drives will last approximately 7-10 minutes.
Author: