How Interactive 360 provides dealers a boutique "all-in-one" digital solution with guaranteed results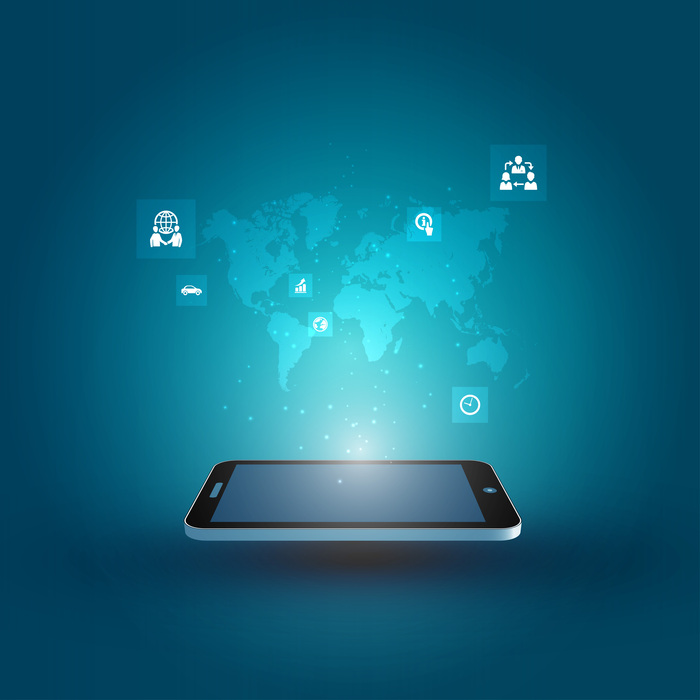 This story starts out like that of many dealers that Interactive 360 pitches to on a daily basis. Dealers who are tired of managing multiple vendors and wasting countless hours at the end of each month tallying numbers across vague ROI reports in order to find out which vendors are performing and which ones should be getting left in the dust.
Rick McLey, CEO of Interactive 360 has dealt with this process and his frustration was the motivation behind the founding of Interactive 360. McLey's love of technology began while working as a Data Systems Specialist for the United States Navy and his love for the automotive industry began while working as a salesperson for a local dealership while in college. He used his skills to move from selling vehicles to becoming an Executive Manager over multiple dealerships. McLey was an integral part of the dealerships' success with an average monthly sales volume of 800 units. During his more than 20 years of experience in the retail industry, McLey has worked for some of the largest dealer groups in the United States.
Interactive 360 was founded in August of 2011 and for the first year, it focused not on gaining clientele but on building software in order to provide an exceptional experience to dealers. Software built from a dealer and salesperson's perspective. Rick McLey is famously quoted as believing, "that in order for Interactive 360, Inc. to best serve clients in the digital arena, one cannot fear change but embrace it and constantly be eager to improve."
Similar to the tech giant, Apple, Interactive 360 recognizes that behind a great product or services lies exceptional support; support that is not only efficient and accessible but delivers a one-on-one boutique experience. Building a company that provided a full suite of services from custom websites and on-site training to a complete customer relationship management system built from the ground up called Drive360®CRM, is only best represented when the level of customer support is at its highest. This philosophy is what Interactive 360 believes will create the most value for their dealer customers.
The "CMR" of your dealership's success
In today's digital market, over 90% of automotive customers are looking to the internet at the start of their car buying experience. On average, these car buyers spend between 18 and 19 hours researching information before they make a decision on a dealership visit. Car buyers are more educated than ever, demand transparency in pricing, photos and options and they want to know that they dealership they choose is a reputable one.
Creating, Managing and Retaining (CMR) customers are the three pillars of any dealerships success. In order to create a larger customer base in a highly competitive marketplace, it is imperative that dealers target where their customers live, which is the digital marketplace. Effectively managing those customers that have been generated will result in conversion of a lead into a sale. Arguably the most important step in a dealership's long term success lies in customer retention. Interactive CEO Rick McLey recently noted in a December webinar over customer retention that "customer defection is now at 62%, which means you are only retaining 38% of your customers. Of those customers that defected, half of those people defect because of lack of communication." He further explains by saying that, "great companies use technologies to accelerate momentum, not create momentum."
With a specialized team with over 150 years of retail experience, over 110 years of development experience and over 60 years of marketing experience, Interactive 360 understands what drives consumers in today's digital market and how to get your dealership guaranteed results greater than 500% of your current marketing spend or you do not pay.
Your time is valuable
Interactive 360 understands that your time is valuable and selling cars is what you do best. Interactive 360 has compiled four packages as well as the recent launch of their custom built Drive360®CRM system that are designed to accomplish one or all three of the CMR steps in a dealerships success. These packages take into account the range of vendor and budget situations that a dealership may have from a small local store to a regional or even national auto group. No matter what size the dealer may be, Interactive 360 strives to provide the same level of one-on-one boutique style support that is lacking in the industry as a whole today. Whether you opt for one of our precompiled packages or you have specific needs that can be addressed in a custom package, the Interactive 360 sales team is available to offer customized service to meet your needs and expectations.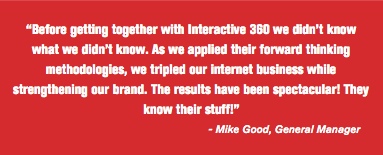 Interactive 360's most popular service bundle, the Drive Package, is designed for the dealer that wants to amplify their online presence and drive traffic to their current website through Search Engine Optimization (SEO), Search Engine Marketing (SEM) campaigns including Dynamic Inventory Ad Writing, weekly Blog Writing, Retargeting Ad Campaigns, Reputation Management and complete management of your Social Media Marketing. The Drive Package can help you strengthen and grow your online presence putting you ahead of the competition.



While Interactive 360 wants to drive viewers to your website, they also want them to stop and stay awhile. The Conversion Package includes all of the products and services offered in our Drive Package with the addition of a Custom Website, Live Visitor Tracker, PriceTime: Make an Offer System, Chat Tool, Inventory Video with optional human voiceover, Call Tracking through website Dynamic Number Insertion, Service Scheduler and a full Inventory Management system with mobile capability.
96% of visitors to your site are not ready to buy, but your chances of conversion become larger the longer that your customers remain on your site. First impressions are everything and providing the right information is imperative. A one second delay in website load time can result in a 7% reduction in conversion rates. Interactive 360 websites are equipped with unlimited bandwidth which means that your site will never lag in load times.


The Retention Package gives you all the benefits of our Conversion package with the addition of valuable customer retention tools such as After Hours Chat, 1st response Email, Service Equity Tool, Retention Marketing, CRM Business Rules and Customized Email Templates.

With the importance of repeat customers, the ability to maintain a relationship with them is crucial in any business. The Retention Package gives you all the tools you need to bring customers in and keep them coming back. Through a variety of mediums, Interactive 360 provides your customer base with special offers and other incentives to thank them and encourage them to make your dealership their first stop for all of their automotive needs. The Retention Package helps you create a vehicle ownership experience for your customers that are like no other; one they will truly appreciate and share with their friends and family. Efficient customer retention can make the difference between just making a sale and creating a valuable relationship outside of the initial 12 week customer lifecycle.


Our Retention+ Package provides you with a complete digital marketing bundle as well as 24 on-site training days per year, Call Monitoring with Alert and E-Mystery Shopper of four of your competitors as well as your own dealership for a total of five reports per month.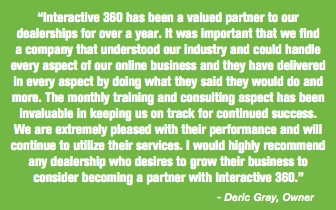 On-site training is an expense that many dealerships will spend upwards of $10,000 per rooftop per month in order to improve on items such as Phone Skills, Follow-up Skills, Process Design, Process Improvement Consulting, Sales Training, Team Building, Leadership Training, Lead Handling, Road to the Sale, Desking/Negotiation, Chat Skills and Service Drive Training. Offering an entire suite of services including 24 on-site training days per year at an extremely competitive price point makes this package enticing. Are there other items that you would like addressed in your store? Let the Interactive 360 team know. The Interactive 360 team of experienced professionals will able to accommodate whatever needs your dealership has.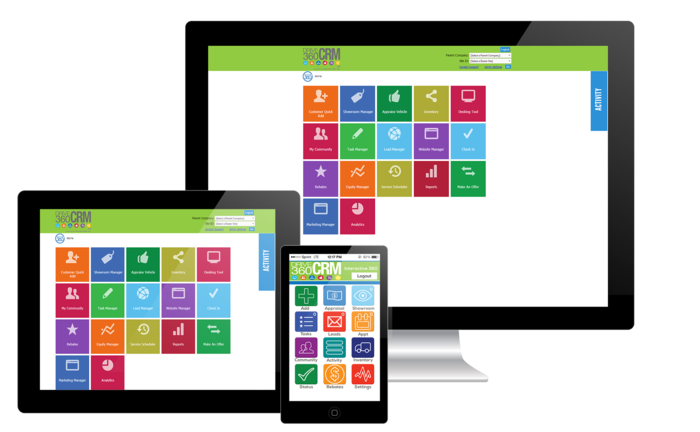 The launch of Interactive 360's Drive360®CRM system at Digital Dealer 15 in Las Vegas has received praise from the automotive community looking for a system that is robust yet allows the user a simple, easy to navigate experience. Rick McLey, recently noted in regards to the CRM, "The response from the automotive industry has been overwhelming. Drive360®CRM niches itself into the automotive CRM market as a powerful system designed for the salesperson yet is still intuitive and user friendly. These qualities including the fact that there are no long-term contracts make it a formidable player in the market."
Introducing the industry's first automated ROI report connected to the DMS for accuracy of sales, Drive360®CRM ROI Tool is the truest mini P&L statement that isn't on a dealer's financial statement as a regular category. Among the tools included in the system including mobile capability are: Dashboard, Lead Manager, Showroom Manager, Customer Management System, Desking Tool, Credit Report Tool, Inventory Management System, Vehicle Appraisal Tool, Task Manager, Marketing Manager, Social Media Manager, Website Content Management System and of course, Interactive 360's ongoing live support.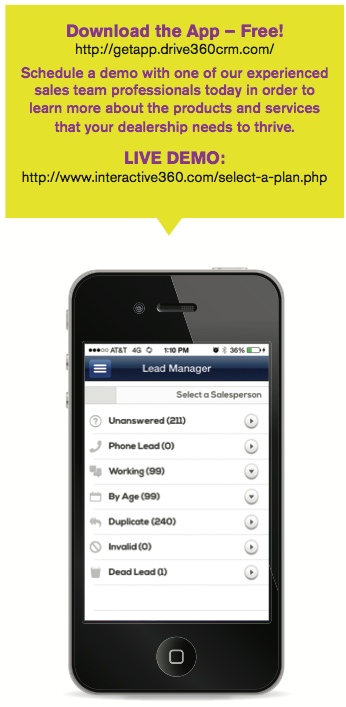 Features/Benefits include:
– Quickly add customers from the lot
– Manage showroom activity in real time
– Remotely manage all tasks and appointments
– Search by Year, Make, Model, Age, Stock, Type, Promo, Term, Keyword
– Get appraisals on the go with automatic appraisal notification to your used car manager
– Create custom syndication with one-click
– Access the CRM industry's first comprehensive ROI reporting tool
– Create finance "rules" based on financial institutions and lease companies
– Create pricing "rules" on new and used inventory
– Compatible on all browsers and devices
– Manage your leads with pre-designed templates
– Real time push and pull to your DMS
– Upload inventory images immediately from the lot
– Get potential equity alerts on incoming sales and service appointments
– Use VIN Scan to eliminate the risk of data entry errors
– Access up to date market analysis remotely
– Quick-view a summary of the "Deal Info" when desking a deal to access data such as Cost, Gross/Profit and LTV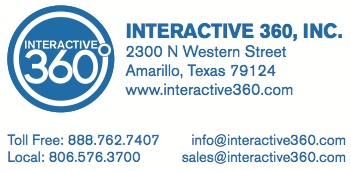 Author: