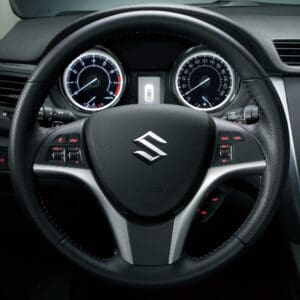 According to Alec Gutierrez, senior market analyst for automotive insights, Kelley Blue Book, now that Suzuki has announced that it will be leaving the U.S. automotive marketplace and filing for bankruptcy, existing owners may be nervous about the resale value of their SX4, Kizashi or Grand Vitara.  When brands are discontinued, especially those that aren't the subsidiary of a much larger nameplate (i.e. Saturn under GM), used-car values usually drop in excess of typical expected depreciation.  Consumers tend to shy away from owning orphaned vehicles due to the uncertainty surrounding the availability of replacement parts, warranty coverage, and the perception of driving a vehicle produced by a failed brand.  To get a better sense of what consumers can expect to see in terms of resale value, we can look to the two most recent brands to cease production in the United States that were not under a large parent company; Isuzu in 2008 and Saab just last year.
When Isuzu pulled out of the U.S. automotive marketplace in 2008, it was in a similar position that Suzuki is in today.  Its only products at the time were the I-series Pickup and Ascender sport utility, which were based on GM's Colorado and Trailblazer, respectively.  When Isuzu went under, we didn't see much of a change in resale values.  Since Isuzu's entire limited portfolio was based on existing GM nameplates, there was little concern of a lack of replacement parts, which helped to keep values of used Isuzu vehicles steady.
When Saab went under about year ago, we saw a significantly different reaction from dealers and consumers.  In just one year since filing bankruptcy, the private party value of the 2010 Saab 9-3 has dropped more than 50 percent, far surpassing the 11 to 14 percent drop of the 2010 Cadillac CTS and BMW 3-Series, two close competitors.  Saab values tanked due to the lack of a commitment for warranty coverage on Saab models sold in the last few years, and the fear surrounding a lack of replacement parts further down the road.
The question we now face is whether values of used Suzuki models will drop like Saab or hold steady like Isuzu.  Kelley Blue Book believes that Suzuki values will avoid a significant correction, since the company will continue to honor warranty claims and produce replacement parts.  Suzuki remains a large player in Japan and should have no trouble producing parts to keep used Suzuki vehicles running in the United States.  Further limiting the company's risk on the downside is the fact that Suzuki already is one of the most affordable brands available for sale in the secondary market and quite frankly, there isn't much room for them to drop much further.  The average 2011 model-year Suzuki has a private party value that is worth approximately 59.4 percent of original MSRP.  This compares to an average retention value of 73 percent for Hyundai and 72 percent for Toyota and Honda.
Although Kelley Blue Book does not expect values of used Suzuki vehicles to suddenly fall off a cliff, they will drop at least marginally in the weeks and months ahead.  Consumers tend to shy away from vehicles that are no longer supported by a strong manufacturer presence, and this will take a toll on the values of used Suzuki products over time.  By year end, we could see values of used Suzukis drop by 3 to 5 percent, well in excess of the 1 to 2 percent depreciation expected for the rest of the industry; yet still relatively modest compared to the declines experienced by Saab post-bankruptcy.  As 2013 rolls around, we expect to see Suzuki's values stabilize, since its models likely will remain appealing to those consumers seeking the most affordable vehicles available for sale.
With used-car values expected to fall, there still remains the question of what happens to the remaining new Suzuki inventory left on dealer lots.  According to AutoTrader.com there are still more than 3,500 brand new Suzuki models available for sale nationwide.  Consumers looking for a new car at a sizable discount may want to consider buying one of the few remaining brand-new Suzukis.  We wouldn't be surprised to see significant discounts offered up by dealers as they try to liquidate their remaining inventory.  However, we don't expect to see any major incentives offered by the company, so deals will be specific to each dealer based on their remaining inventory.  For bargain-minded new-car shoppers, the discounts that are surely on the way for remaining new Suzuki inventory should be more than enough reason to at least consider a Kizashi or SX4 before they are gone forever.
Author: