CARSON, Calif. — The growing population of DIYers seeking answers to their auto repair problems is increasingly turning to social media: AutoMD.com today reported that nearly 80,000 consumer repair questions have been answered by individuals at Auto Answers, AutoMD.com's online and mobile repair community.  Additionally, according to a recent survey(1) of the community, these answers are saving car owners time and money: 72% report that the Auto Answers community has helped them save time and money on auto repair, with 70% of survey respondents saying it saved them over $100 on repairing their vehicle.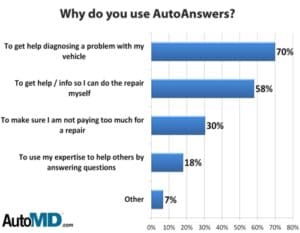 "DIYers are doing more of their own auto repairs, and a tough economy is also leading more, who have never done so before, to attempt their own repairs(2)," said Brian Hafer, VP of Marketing at AutoMD.com.  "We're finding that these DIYers are now turning to social media and on-the-go mobile apps to hunt down the answers to their questions — as evidenced by the growth of our Auto Answers community, which is a uniquely empowering tool providing thousands and thousands of car owners with useful, actionable, time- and money-saving advice every week."
Auto Answers, including its on-the-go version, AutoDoc on AutoMD mobile, enables auto experts and individuals to provide answers to consumer repair questions, and makes it easy for car owners to search for community-generated solutions to vehicle problems. Car owners can drill down to question and answer categories specific to their issues and their vehicle make, and they can also search by repair question or repair issue.  A popular new AutoMD mobile feature (87% surveyed found it useful) enables car owners to take a picture or a video from home, or on the road, of their vehicle problem on their iPhone, post it, along with their question to the community, and then receive an alert when an answer has posted.
"Getting help diagnosing a problem with my vehicle" (70%), "getting help/info so I can do the repair myself" (58%), and "making sure I am not paying too much for a repair" (30%) were the top three reasons cited by survey takers for going social/mobile for advice at Auto Answers.
User testimonials illustrate the unique benefits of having an online social community on your side. For instance, one user reported being told by a dealer that, "I would need a new fuel tank for my car and that it would cost $900.00. After I posted the problem on AutoMD, I received an answer within 24 hours. All that was wrong with my car was that the vent was clogged in the fuel tank. My husband was able to get the junk out of the vent and I was able to put fuel in my gas tank again. Thank you AutoMD for saving me a lot of money for a very costly repair that was not necessary."
The community has attracted hundreds of auto repair experts and enthusiasts, many of who have joined the community just to provide advice. In fact, 18% of survey respondents said they visit Auto Answers for that reason alone.  For example, one survey respondent said, "since I'm a retired ASE mechanic and those on AutoMD are also mechanics, we trade secrets of the automotive world to help those struggling to save money. Since the dealership labor rate has increased to anywhere from $87.00 to $95.00 an hour, and parts have also become much more expensive, I feel that my knowledge, and the knowledge of others like me, can help struggling folks save hard earned money."
To post a photo or video of your repair issue, download AutoMD Mobile for the iPhone, free at iTunes. To post a question, answer or to search for a community answer to your vehicle issue, use the iPhone app or go to http://www.automd.com/answers/.
(1)Email survey of over 890 Auto Answers users from Jan 4 – Feb 21, 2012
(2) According to the AutoMD.com "2012 DIY Report," nearly half (49%) of self-reported DIYers say they are doing more auto repairs themselves than they did the previous year; 77% of confirmed DFMers (those who typically never do repairs themselves) say current economic conditions have made them more likely to attempt their own repairs: http://www.pitchengine.com/automdcom/economyaging-vehicles-continue-to-drive-more-diy-auto-repairs-according-to-automdcoms-2012-diy-report
About AutoMD.com
AutoMD.com™ (www.automd.com), a wholly-owned subsidiary of US Auto Parts Network, Inc., (Nasdaq: PRTS), is the most comprehensive and unbiased free online automotive repair resource designed to empower car owners with the best way to repair their vehicles. Backed by a team of automotive data specialists and certified auto mechanics who are advocates for the car owner, AutoMD.com allows both car owners and DIYers to 1. Troubleshoot car problems, 2. Know how much auto repairs should cost, 3. Understand the steps needed and the time it should take with How-to Auto Repair guides, 4. Find the right local auto repair shop at the right price for their issue, and 5. Get auto repair questions answered by the AutoMD.com community. AutoMD.com was named Best Automotive Website in the 8th annual American Business Awards, also known as the Stevie® Awards. AutoMD Mobile is available for the iPhone at iTunes.
Author: