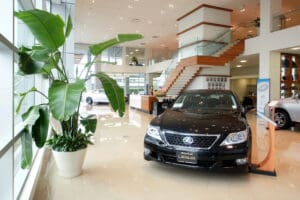 With over 69,000 square feet of interior space, OpenRoad Lexus Richmond is the largest Lexus store in Canada and the largest indoor showroom in Canada. Serving Lexus owners for over 20 years, OpenRoad Lexus moved into a brand new showroom in 2011 designed by Kasian, a renowned global architecture firm, which presented a dramatic upgrade from their previous space.  OpenRoad Lexus' two-story showroom features one of the largest inventories of new and pre-owned Lexus vehicles in western Canada.   "When we moved into this building last year, we realized it was a beautiful space, but it was quite stark and sterile," said Mark Worbeck, General Manager for Open Road Lexus Richmond.
"It is important that our space be viewed by our clients as their home and office away from home, where they can enjoy amenities inside our guest lounge, including massage chairs, computer work stations, a 60-inch satellite TV, wireless internet, and a relaxing outdoor patio, all while their Lexus vehicle is being serviced inside our Lexus Service Lab," says Workbeck.
"Our design goal was to achieve a symbiosis of nature and high design which is a key driver of the Lexus brand identity," said Worbeck.  "Ambius had done a terrific job plantscaping our previous space, so I turned to them again to see how they could bring nature and balance into our new space."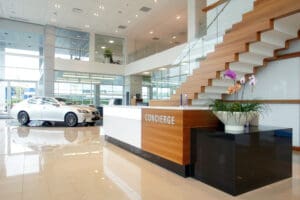 "The open space layout with floor to ceiling windows on the first floor exposes an abundance of light," said Joanne Craft, Ambient Designer, Pacific Northwest Region, Ambius, www.ambius.com/joanne. "A primary design challenge was figuring out how to best to highlight select green feature focal points using a limited amount of live plants within a very massive space."
"Another challenge centered around adding live plants on a large pocket wall in the hybrid show room on the second floor which had very little natural light," said Craft. "As live plants would not thrive in this low-light environment in the large pocket wall area, we recommended featuring permanent botanical green grass in white rectangle planters," says Craft. "These beautiful green botanicals, which require little maintenance, blended artfully with the white wall but still allowed the green grass to subliminally shout out a sustainability message."
"The hybrid pocket wall was the most challenging aspect of the project for me as a designer as it was difficult to find the replica grass in planters that presented the right look and feel for this modern space," says Craft.  "Determined to meet my client's expectations, I went shopping for planters and permanent botanical grasses and designed and created all of the grass arrangements from scratch – glue gun and all."
A variety of live plants were added in key areas throughout the first floor showroom which dramatically livened up the stark, modern space. "We incorporated many elegant plants that are synonymous with high design including the tall beautiful Strelitzia Nicolai (common name: Bird of Paradise) to create an interior landscape design that incorporated the principles of biophilia; which is our innate love for the natural world," says Craft.  "We placed plants at irregular levels such as smaller ground cover plants like the Aglaonema Silver Bay planted at the base of the Bird of Paradise.  Mixtures of plant varieties and forms appear more natural in a space.  We also used Aspidistra Elatior plants and Scindapsus Jade plants and potted orchids."
"Joanne created a modern and humanistic design featuring live and replica plants that has brought warmth and energy into our surroundings," said Worbeck.  "Customers frequently comment positively on the plants; especially the potted orchid bowl," said Darlo Arndt, concierge at Open Road Lexus Richmond.
"While we realize due to light restrictions, replica plants were necessary on our second floor, we are happy that the final design also featured many live plants," said Worbeck.  "I'm a big believer in plants natural ability to reduce levels of carbon dioxide, which can accumulate in buildings from the breathing of its occupants and the by-products of heating systems and electrical equipment.  Plants also increase relative humidity and reduce airborne dust levels, air temperatures and background noise levels which add to the comfort and relaxation of our Lexus clients."
Author: