Subaru of America, Inc. reported record sales for May 2012 of 29,724 vehicles, a 48 percent gain over May 2011.  The company also reported year-to-date sales of 136,602, a 22 percent gain over prior year.
May marks sixth consecutive month of sales gains for the brand
May sales increase more than 48 percent
Year-to-date sales for the brand are up 22 percent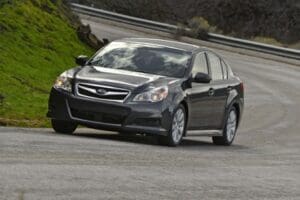 The all-new Impreza continues to achieve triple-digit sales gains.  May Impreza sales are up more than 235 percent over May 2011; year-to-date sales represent a 170 percent gain over 2011.
"Strong demand and a great product lineup are driving record sales for Subaru," said Thomas J. Doll, executive vice president and COO, Subaru of America, Inc.  "Demand for the newly-introduced Impreza has far exceeded expectations.  With new product launches just around the corner, we know the upward sales trend will continue throughout the year."
| | | | | | | |
| --- | --- | --- | --- | --- | --- | --- |
| Carline | May-12 | May-11 | % Chg | May-12 | May-11 | % Chg |
| | MTD | MTD | MTD | YTD | YTD | YTD |
| Forester | 7323 | 5193 | 41.02% | 29863 | 31676 | -5.72% |
| Impreza | 6786 | 2021 | 235.77% | 34677 | 12837 | 170.13% |
| Impreza WRX | 1525 | 589 | 158.91% | 5706 | 5510 | 3.56% |
| Legacy | 4462 | 3618 | 23.33% | 20378 | 17813 | 14.40% |
| Outback | 9192 | 8431 | 9.03% | 44800 | 43325 | 3.40% |
| Tribeca | 165 | 184 | -10.33% | 907 | 1094 | -17.09% |
| BRZ | 271 | 0 | 0.00% | 271 | 0 | 0.00% |
| TOTAL | 29724 | 20036 | 48.35% | 136602 | 112255 | 21.69% |
"May marked the much-anticipated arrival of the new BRZ sports car and a resultant spike in showroom traffic," said Bill Cyphers, senior vice president of sales, Subaru of America, Inc.  "We anticipate similar enthusiasm for the new XV Crosstrek, our exciting small crossover vehicle, when it arrives at dealerships later this year."
Author: