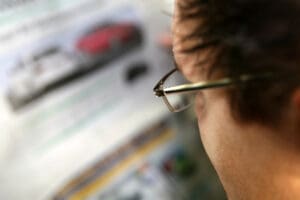 WESTLAKE VILLAGE, Calif. — The proportion of vehicle shoppers who use smartphones to access automotive information on the Internet has increased by more than 40 percent from 2010, according to the J.D. Power and Associates 2011 Automotive Mobile Site Study(SM).
The study examines the features and content of OEM-sponsored and third-party mobile websites and their usefulness in engaging shoppers who use mobile phones during the vehicle-shopping process. The study is designed to assist manufacturers and third-party sites develop mobile websites that optimize traffic to dealerships.
In 2011, 24 percent of in-market smartphone Internet users visit automotive websites on their smartphone. In comparison, this figure averaged 17 percent in 2010. The 41 percent increase in automotive website visitation on smartphones is far greater than for any other type of content, such as gaming (27% growth from 2010) or social media (17% growth).
"While the proportion of vehicle shoppers who use smartphones to visit the Internet during the shopping process is still relatively small, it is expected to continue to grow during the next several years, which will shape the way automotive marketers will need to design their mobile sites and apps," said Arianne Walker, director of automotive research at J.D. Power and Associates.
As smartphone usage among vehicle shoppers increases, their usage patterns continue to evolve. Use of smartphone features (aside from voice calling) has increased among vehicle shoppers from 2010, with the largest increases occurring with app downloads and viewing of video content.
The study findings also include the following key trends:
While 30 percent of male shoppers visit automotive websites on their smartphones, only 18 percent of females do so.  Males are also more likely than females to use tablet devices to access automotive information (22% vs. 16%, respectively).
Vehicle shoppers who access mobile automotive sites from smartphones are more likely to conduct their shopping activity while at home or at the dealer than any other place.
Among vehicle shoppers who use their smartphone during the shopping process, 30 percent say they also own a tablet. Among these shoppers, more than 60 percent indicate they have used their tablet to access automotive information.
Shoppers under 40 years of age are more likely to use their smartphone for auto shopping than are those shoppers over 40 years old (26% vs. 21%, respectively).
While there is no relationship between household income and smartphone usage for auto shopping, there is a strong relationship between tablet usage and auto shopping; households with higher incomes are more likely to use tablet devices.
More than one-half (59%) of vehicle shoppers have used, scanned, or taken a picture of a QR code or barcode for products or services.
The 2011 Automotive Mobile Site Study includes 3,914 evaluations of automotive mobile websites from vehicle shoppers who intend to purchase or lease a vehicle within the next two years. The study was fielded in August 2011.
About J.D. Power and Associates
Headquartered in Westlake Village, Calif., J.D. Power and Associates is a global marketing information services company providing forecasting, performance improvement, social media and customer satisfaction insights and solutions.  The company's quality and satisfaction measurements are based on responses from millions of consumers annually. For more information on car reviews and ratings, car insurance, health insurance, cell phone ratings, and more, please visit JDPower.com. J.D. Power and Associates is a business unit of The McGraw-Hill Companies.
About The McGraw-Hill Companies
Founded in 1888, The McGraw-Hill Companies is a leading global financial information and education company that helps professionals and students succeed in the Knowledge Economy.  With leading brands including Standard & Poor's, McGraw-Hill Education, Platts energy information services and J.D. Power and Associates, the Corporation has approximately 21,000 employees with more than 280 offices in 40 countries.  Sales in 2010 were $6.2 billion.  Additional information is available at http://www.mcgraw-hill.com.
Author: