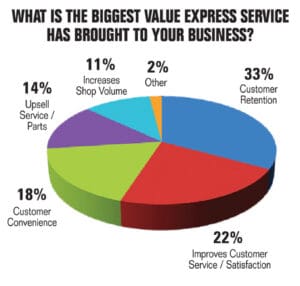 NADA Expo Booth #718, Las Vegas – A growing number of North American dealers are trying to increase business by providing faster service to their customers. This expedited service is frequently delivered through standalone express service facilities or quick service lanes integrated into existing service departments. Other dealers are looking for ways to speed up service in their standard bays to drive greater productivity, profitability and customer satisfaction.
Rotary Lift recently surveyed dealers to learn more about the express service trend. Of the 379 fixed operations directors, service directors, parts directors, general managers and owners surveyed, 48 percent indicated that they have quick service or express lanes in their dealerships. Of those who don't currently offer express service, 45 percent said that they plan to add it within the next one to five years.
Dealers cite a number of benefits of express service: better customer retention, improved customer satisfaction, greater customer convenience, the ability to upsell service and parts, and increased shop volume.
Chris Musselman is service manager at Bush Auto Place, a General Motors dealer in Wilmington, Ohio, that started offering express, low-price oil changes on Feb. 1.
"We're not seeing our customers as often as we used to, because everybody is starting to follow the oil life index. When the manufacturers recommended changing the oil every 3,000 miles, we'd see most of our customers up to five times a year for oil changes. The way it is now, if they use the oil life index, we're only seeing them a couple times a year. So we need to bring in more customers," Musselman explains. "We're expecting to get at least 20 to 25 percent more walk-in oil change business. Of those customers, we think 30 percent will buy additional maintenance."
Musselman and 32 percent of the dealers surveyed identified upselling additional parts and service as one of the biggest opportunities provided by express service. The challenge, dealers say, is completing the service and thoroughly inspecting the vehicle for additional maintenance needs within the allotted time.
Recognizing this need, Rotary Lift developed the Shockwave™ system. Shockwave-equipped two-post and SmartLift® inground lifts are the fastest in the world. Not only are they twice as fast as other lifts, they also make it easy for technicians to quickly position the vehicle on the lift using the patent-pending Spotline™ laser spotting guide and a variety of quick-set superstructure choices.
Shockwave-equipped lifts provide lifting times of just 25 seconds up and 19 seconds down. This saves technicians at least 55 seconds per job — time they can productively spend inspecting the vehicle.
Bush Auto Place bought a Shockwave-equipped two-post lift for its new express service offering. So did Craig Toyota of Madison, Ind.
"The Shockwave-equipped lift allows our service department to complete more jobs in a day," says Jason Tague, service manager. "In an express lube lane, two technicians using the Shockwave lift (and freeing up a traditional bay) should be able to perform three oil changes or tire rotations per hour, adding up to about 144 additional cars serviced every month. That's roughly equal to about 116 more hours of work performed at $69.50 per hour, for a total of $8,096 in additional revenue every month."
Dealers can calculate their own individual Shockwave ROI using the interactive calculator available online at www.rotarylift.com/shockwave.
For more information about Shockwave, contact your local Rotary Lift distributor, visit www.rotarylift.com/shockwave, or call (800) 640-5438. You can also find Rotary Lift on Facebook, www.facebook.com/RotaryLift; Twitter, www.twitter.com/RotaryLift and YouTube, www.youtube.com/RotaryLiftMedia.
About Rotary Lift
Rotary Lift is the leading brand of vehicle lifts and equipment designed to increase technician productivity. Founded in 1925 by the inventor of the first automotive hydraulic lift, Rotary Lift offers the broadest line of lifts for use in professional automotive service, commercial truck and transit, and enthusiast/residential customer segments. There are more Rotary Lift products used in vehicle repair shops around the world than any other brand.
With an uncompromising commitment to product quality, testing and safety, Rotary Lift's products have achieved the reputation as the world's most trusted lifts.  A founding member of the Automotive Lift Institute (ALI), Rotary Lift is also the only North American lift manufacturer certified to ISO 9001 quality standards.
Rotary Lift is a Vehicle Service Group (VSG) brand. VSG comprises eight major vehicle lifting and collision repair brands: Rotary Lift, Chief™ Automotive Technologies, Forward® Lift, Direct-Lift®, Hanmecson®, Revolution® Lift, Blitz® and nogra®. Based in Madison, Ind., VSG has operations worldwide. VSG is part of the Engineered Systems segment of Dover Corporation (NYSE: DOV), a multi-billion dollar, global producer of innovative equipment, specialty systems and value-added services.
Author: